Vegan Caesar Salad features a homemade rich and creamy roasted garlic Caesar Dressing, fresh romaine, crispy chickpea croutons, almond parmesan, and avocado for the most amazing vegan salad!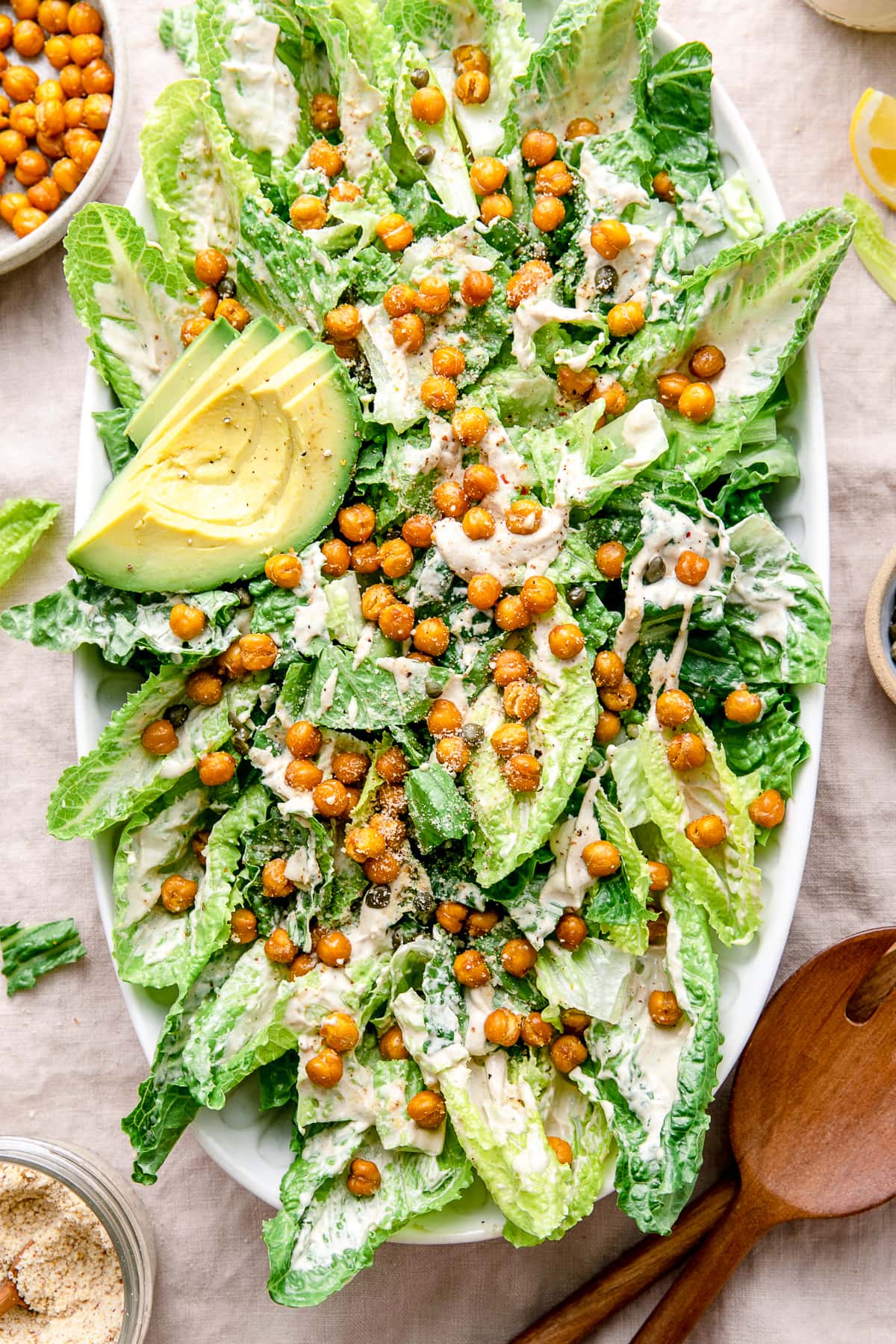 Why We Love This Recipe!
Healthy + well balanced. This Caesar Salad is 100% vegan (diary free and egg free), well-balanced, and made with healthy whole food plant based ingredients!
Easy to make. Everything you need for this salad is simple, accessible, and super easy to put together.
Make it ahead. The Caesar dressing and chickpeas can be made in advance so you can have them handy anytime. Then all you need to do is chop up the romaine.
Served as a small appetizer, side salad, or main entree, Caesar salad one of my favorite go-to salads at the moment and I think you're going to love it as much as we do!!
Want to try something different, try this Caesar Pasta Salad. It's just as healthy and delicious!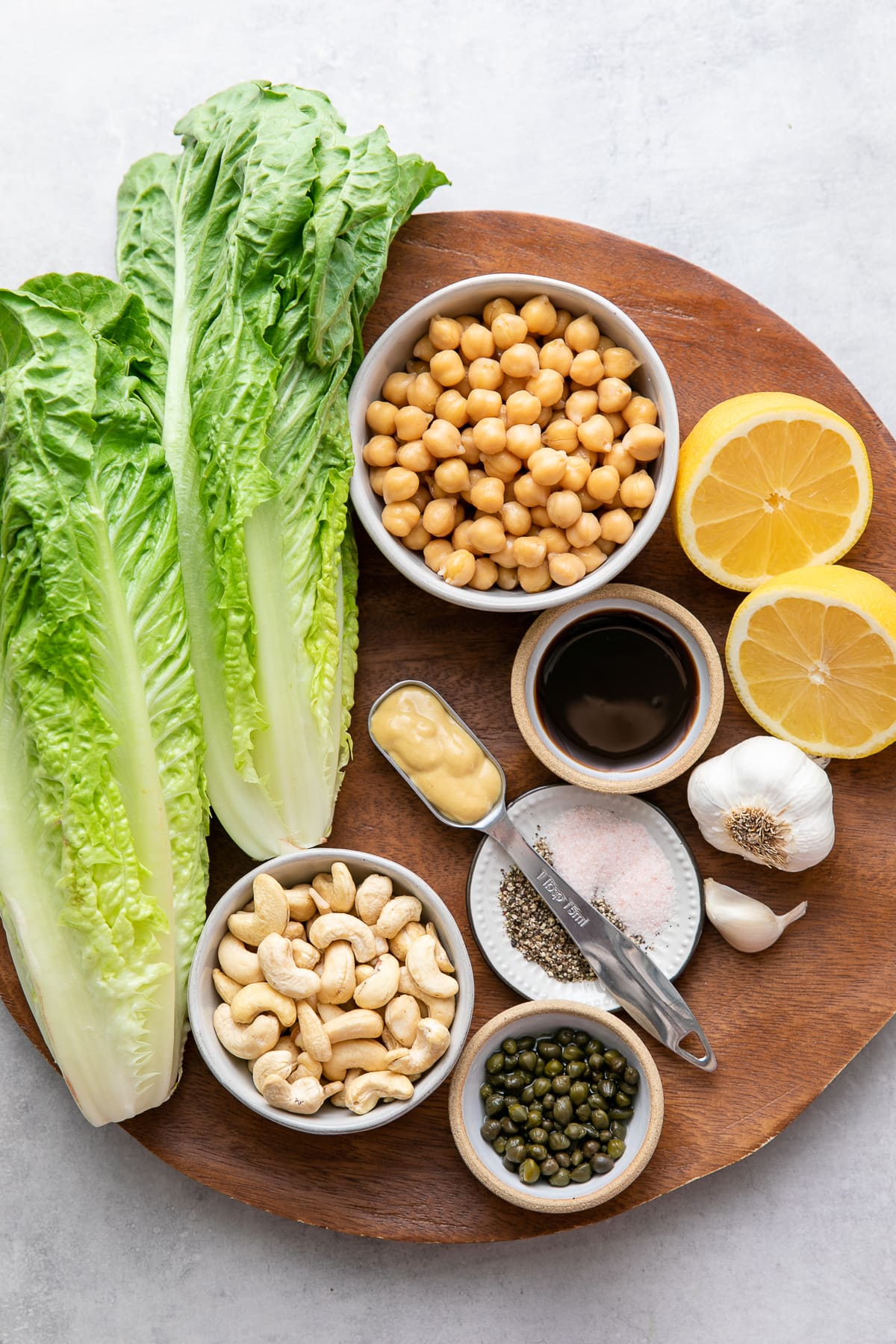 What is in a Vegan Caesar Salad?
Caesar salad is a simple dish that can be changed up a variety of ways to suit your taste. I love adding sliced avocado for extra creaminess, and of course you can change up the garlic chickpea croutons by adding traditional bread croutons instead.
Here is everything you will need, including substitution ideas:
Romaine – Fresh romaine lettuce is crisp and crunchy with a mild, slightly bitter taste that's delicious.
Chickpeas – Typically Caesar salad includes croutons, but we'll be making homemade garlic chickpea croutons instead, adding a crispy texture and protein to the caesar salad.
Cashews – This is the base of the vegan caesar dressing. Use raw cashews for a neutral flavor. See notes for nut-free options.
Capers – Adds an overall briny flavor that replaces sardines found in traditional caesar dressing.
Garlic – The recipe calls for roasting the garlic which sweetens and mellows the flavor, but you can use fresh as well.
Vegan Worcestershire – This adds a richness to the caesar salad dressing. See notes in recipe card for substituting.
Dijon – Adds a slight tang, sharp, and spiciness to the dressing.
Lemon – Add tanginess. Can sub with apple cider vinegar.
Parmesan cheese: We'll be using a non-dairy Almond Parmesan. It's a delicious vegan cheese that pairs perfectly with the tanginess from the caesar salad dressing. If using store bought, I love this Violife Vegan Parm.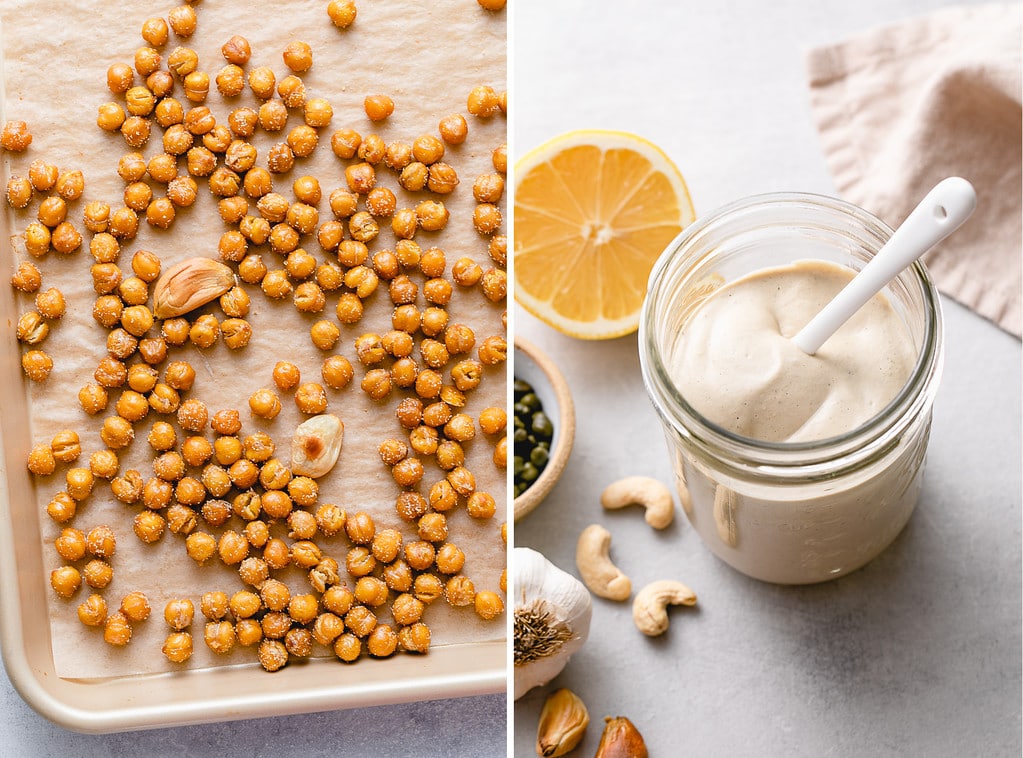 How To Make Vegan Caesar Salad
A vegan caesar salad is super easy to make. The only thing that takes time is the garlic chickpea croutons, but once those are done the salad is ready in 5 minutes!
How To Make Chickpea Croutons: Make sure the chickpeas are mostly dry and remove any of the skins that peel away during the drying process. Roast them on a rimmed baking sheet with a drizzle of oil and spices. Add the garlic (for the dressing) with the chickpeas and bake for 35 – 40 minutes at 400 degrees F. Be sure to remove garlic if they start to brown too much, this will happen with smaller cloves of garlic.
How To Make Vegan Caesar Dressing: Soak the cashew for 5 minutes in hot water (this will help soften them for blending). Place the cashews, roasted garlic, capers, dijon, vegan Worcestershire, lemon juice, salt & pepper, in a small blender (<affiliate link) and blend until creamy smooth. Taste for flavor.
How To Assemble Vegan Caesar Salad: Chop the romaine, add to a large mixing bowl, and toss with the vegan Caesar dressing (you may have leftovers), top with chickpea croutons and healthy sprinkle of Almond Parmesan. Serve with optional sliced avocado and extra capers.
And that's it! We hope you enjoy this fresh and savory salad often!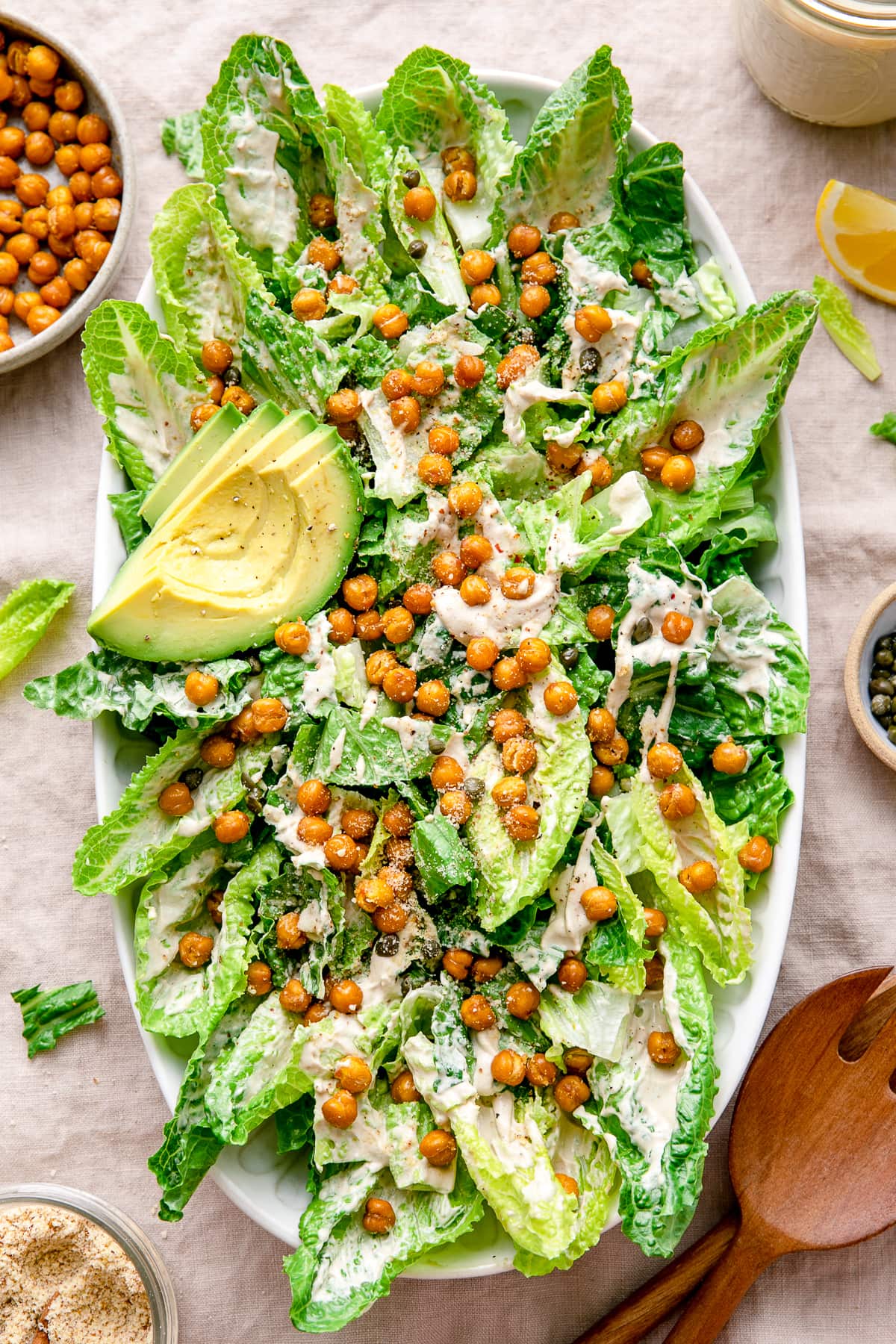 How To Store
Salad: Leftover Caesar Salad can be kept in the refrigerator for up to 4 – 5 day in a covered container.
Dressing: Caesar Dressing can be made ahead and stored in the refrigerator for up to 6 days.
Chickpeas: Leftover crispy chickpeas can be kept in an airtight container for up to 6 days.
Serving Suggestions
Serve Caesar salad as a side dish or main entree. If making as a side, here are a few plant based main dishes and sides that will pair well for a full meal.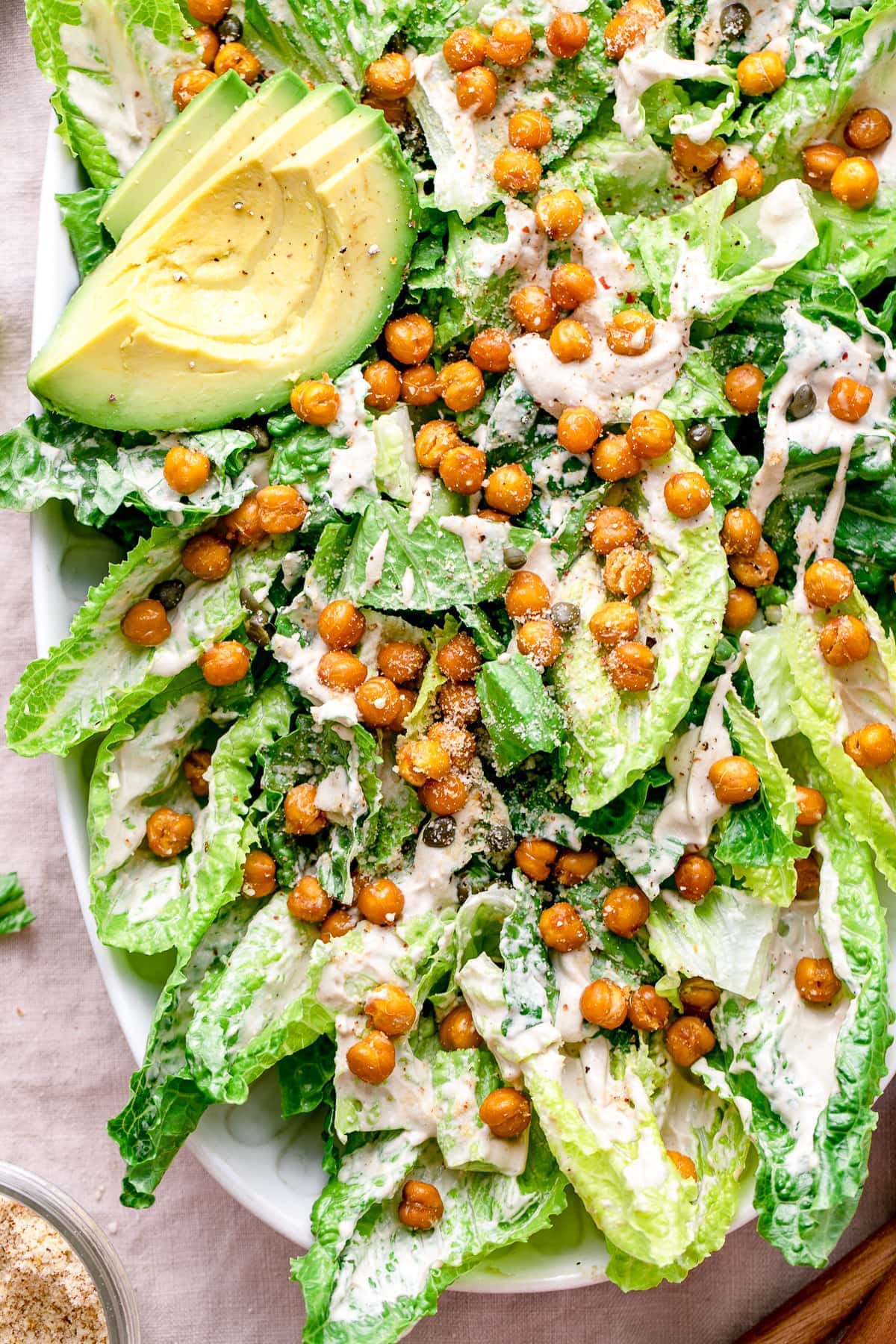 Adjusting For Dietary Restrictions
Looking to make dietary adjustments? Here are a few helpful ideas to get you started.
Gluten-free: In place of bottled worcestershire sauce, use the suggested replacement noted in the recipe card.
Nut-free: Instead of using cashews for Caesar dressing , try subbing with 2/3 – 3/4 cup of plain, unsweetened, non-dairy yogurt or vegan mayo. Add a little water as needed to thin. It should be just as savory and delicious!
Oil-free: Skip the oil when roasting the chickpeas, instead tossing them with a little canned chickpea juice or tamari instead.
More Healthy Salads!
Salads are a great way to include fresh veggies and fruits into your diet. Take a look at these other healthy salads, you just may find a new favorite for the meal rotation!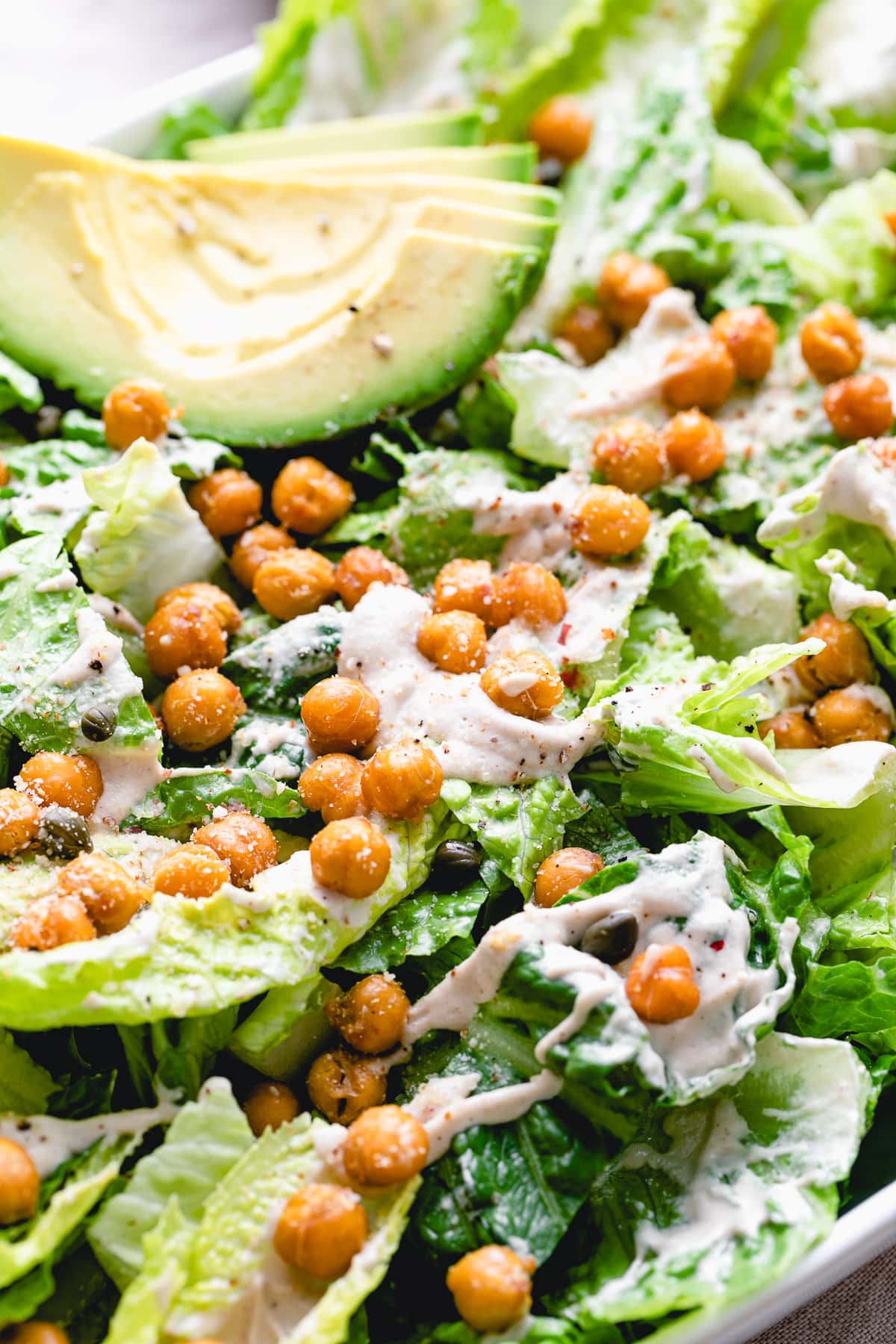 If you try this easy salad recipe or have a question, please let me know! Leave a comment and rate it below. I love to hear what you think, or any changes you make.
Print
Updated: This recipe was originally published in March 2019. It has been retested and updated with new photos and helpful tips in March 2021.
FOLLOW TSV on Facebook, Instagram, Pinterest, or RSS for more updates and inspiration!