'CHICKPEA OF THE SEA' TUNA SALAD SANDWICH
Chickpea Tuna Salad – This classic vegan 'tuna' salad is the BEST and so easy to make! It's a fan-favorite that's loved by all types of eaters!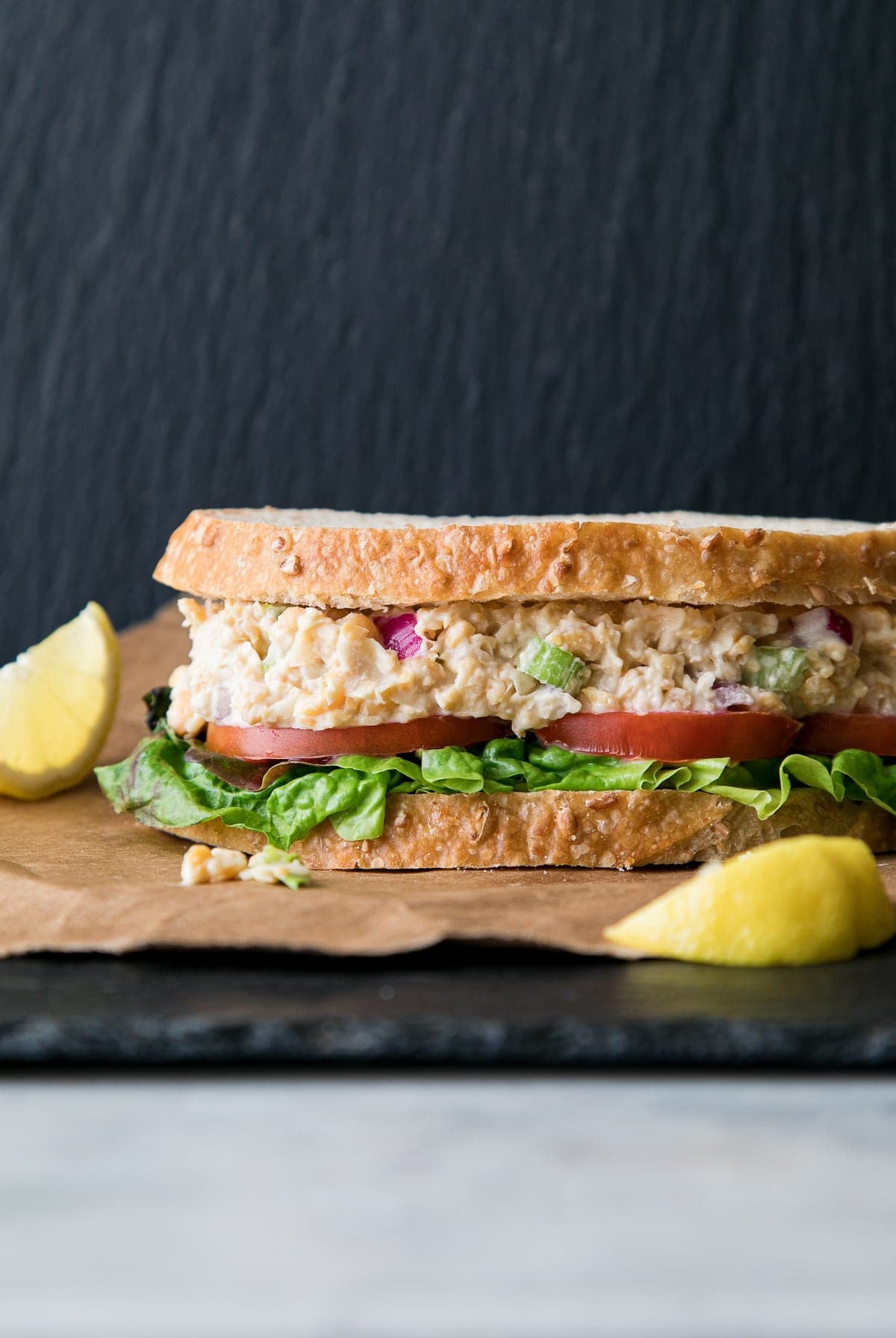 This 'Chickpea of the Sea' Vegan Tuna Salad Sandwich is easy, healthy, delicious and sustainable!
Of course, it's not going to taste exactly like tuna, but it will give you the mouth feel and fullness that its predecessor, the 'tuna salad' sandwich, gave you. Add some nori sheets or flakes to add more of a sea flavor.
This is a wonderful simple mock vegan 'tuna' salad that can be served many ways!
It's great alone.
Served on whole-grain artisan bread for a hearty sandwich.
Add a scoop on top of a bed of leafy greens with a squeeze of lemon.
Scoop it up with crackers or pita chips.
To add freshness, cut bell pepper strips or cucumber slices, they make great scoopers.
Pairs well with fresh fruit too!
I have been enjoying trying all these different foods and sharing them here in hopes to inspire others looking to make changes seeking new inspiration. I find it's not difficult eating a plant based diet, in fact – it's a joy!
Simple recipes like this I never tire of and I hope you like this easy, vegan chickpea tuna salad as much as I did!
Ingredients + Substitutions
Here is everything you'll need to make the best chickpea tuna salad. Includes optional add-ins as well.
Chickpeas – canned or fresh cooked
Onion – use red or green (scallions) both work great
Celery – adds a nice texture, but can be optional
Vegan Mayo – this will be the binder, can sub with thinned hummus as well
Salt + Garlic Powder – salt brings out the flavors and garlic powder is a flavor booster
Nori Sheets – an optional way to add 'sea flavor'
Chia Seeds – will add a dose of heart healthy omega's that's also found in tuna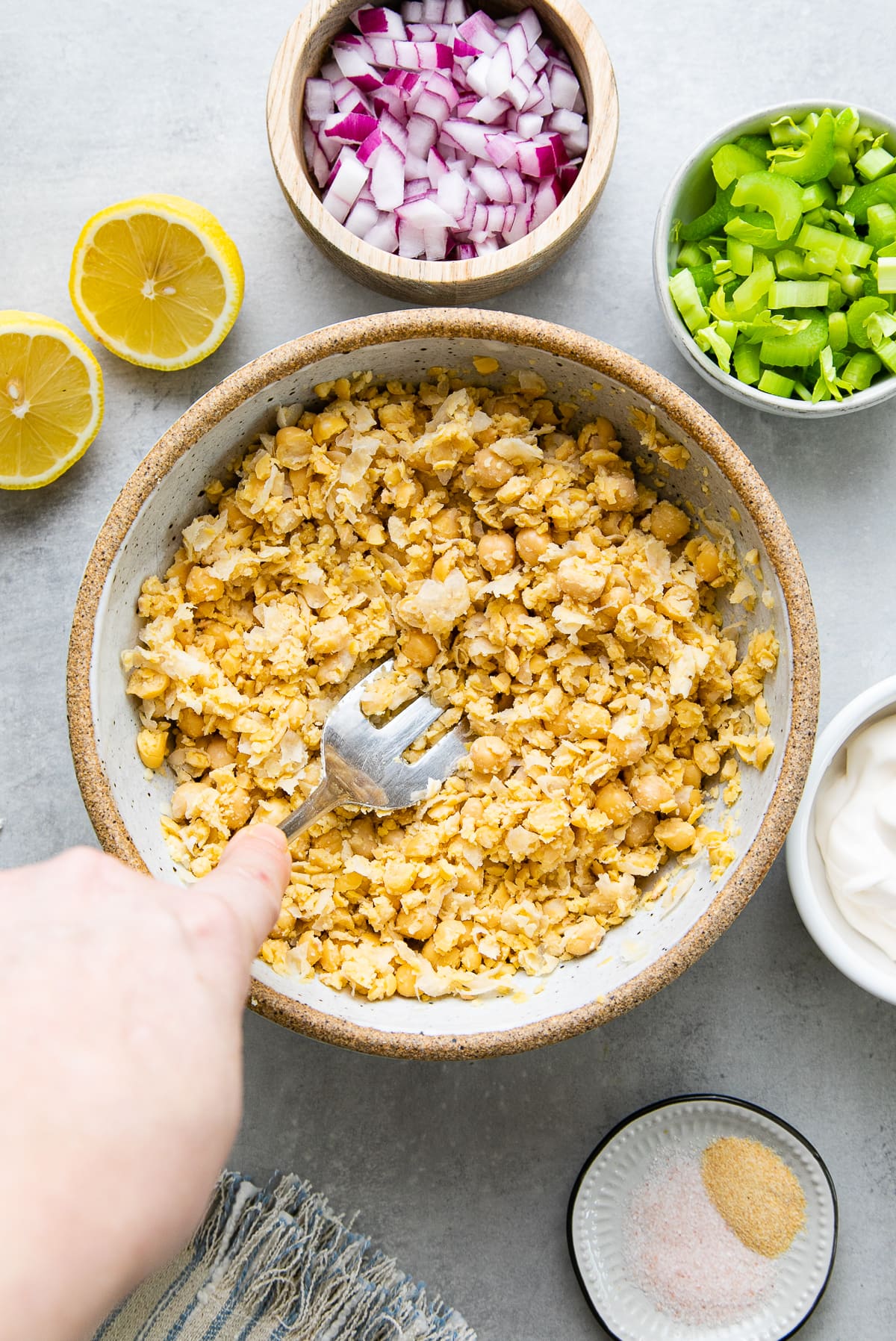 How Do You Make Vegan Chickpea Tuna Salad?
Roughly mash the chickpeas, about 3/4 of them is good, with the back of a fork or potato masher. Mashing the chickpeas helps hold the salad together, once the binder is added and ingredients are all mixed it will be a nice thick mixture.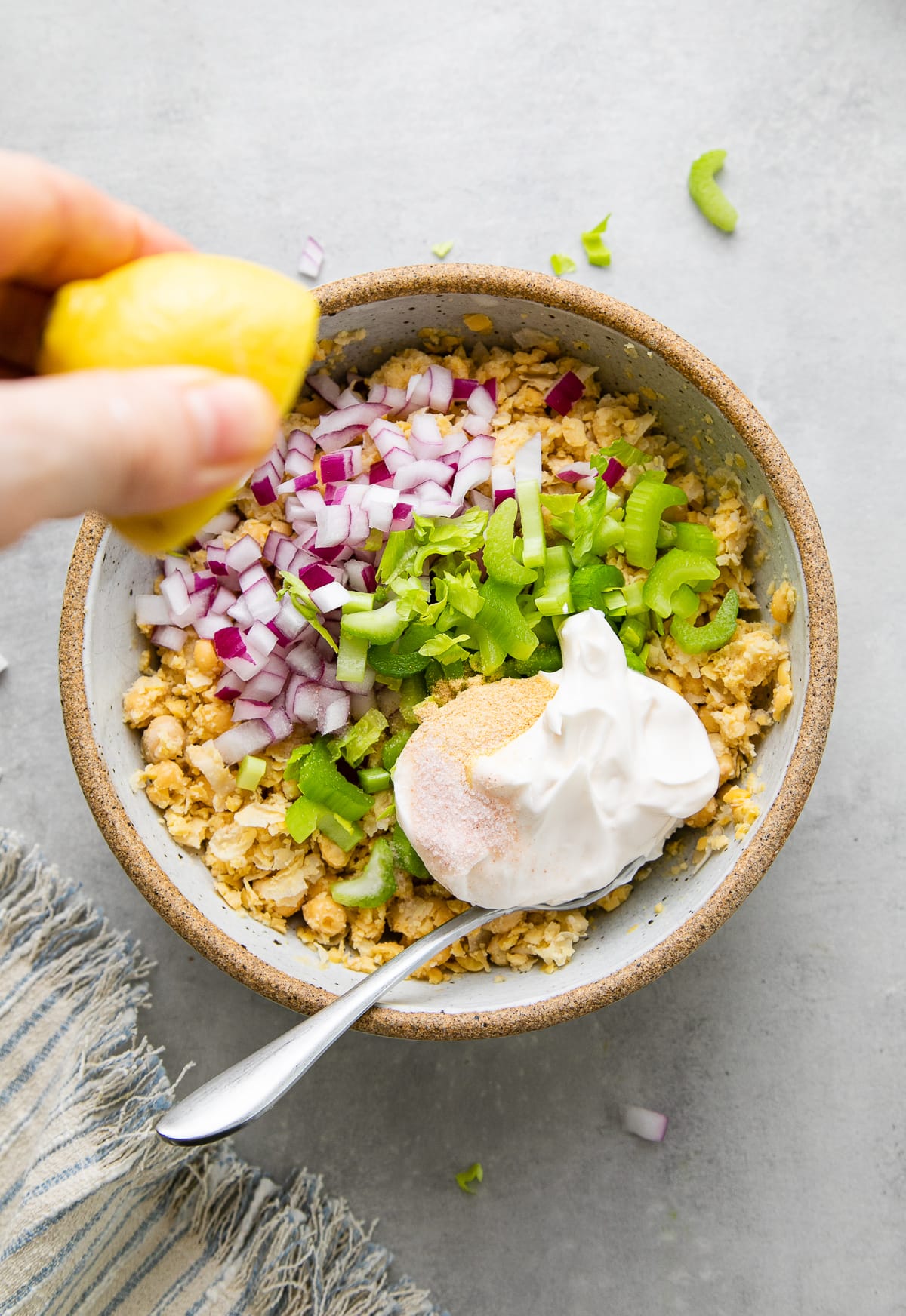 Next, add the celery, onion, garlic powder, vegan mayo (or hummus mix), lemon juice, salt and pepper, and mix well. Adding any extra ingredients you like, to taste. Alternatively, you could use a food processor starting with the beans, pulse a few times, add remaining ingredients, pulsing again a few times until desired consistency.
And that's all it takes to make this delicious recipe. It's healthy, versatile, quick, easy and delicious!
This vegan chickpea tuna salad sandwich is my kind of wonderful!
Top Tips
Change up the binder. I love using thinned plain hummus in place of vegan mayo. If using store bought hummus that is thick, add a couple heaping tablespoons of the hummus in a small bowl and whisk in 1 tablespoon water at a time until desired thinness. It works perfectly!
Add a sea flavor. Try adding a little seaweed, such as a sprinkle of dulse flakes or crushed nori sheet, to the mix for a taste of the sea.
Add heart-healthy omegas. Tuna is full of omega's, add 1 tablespoon or so of hemp hearts or chia seeds to the no-tuna mix for added nutrients.
Recipe can easily be doubled. Recipe shown is a double batch. Feel free to double up, you'll be glad to have leftovers.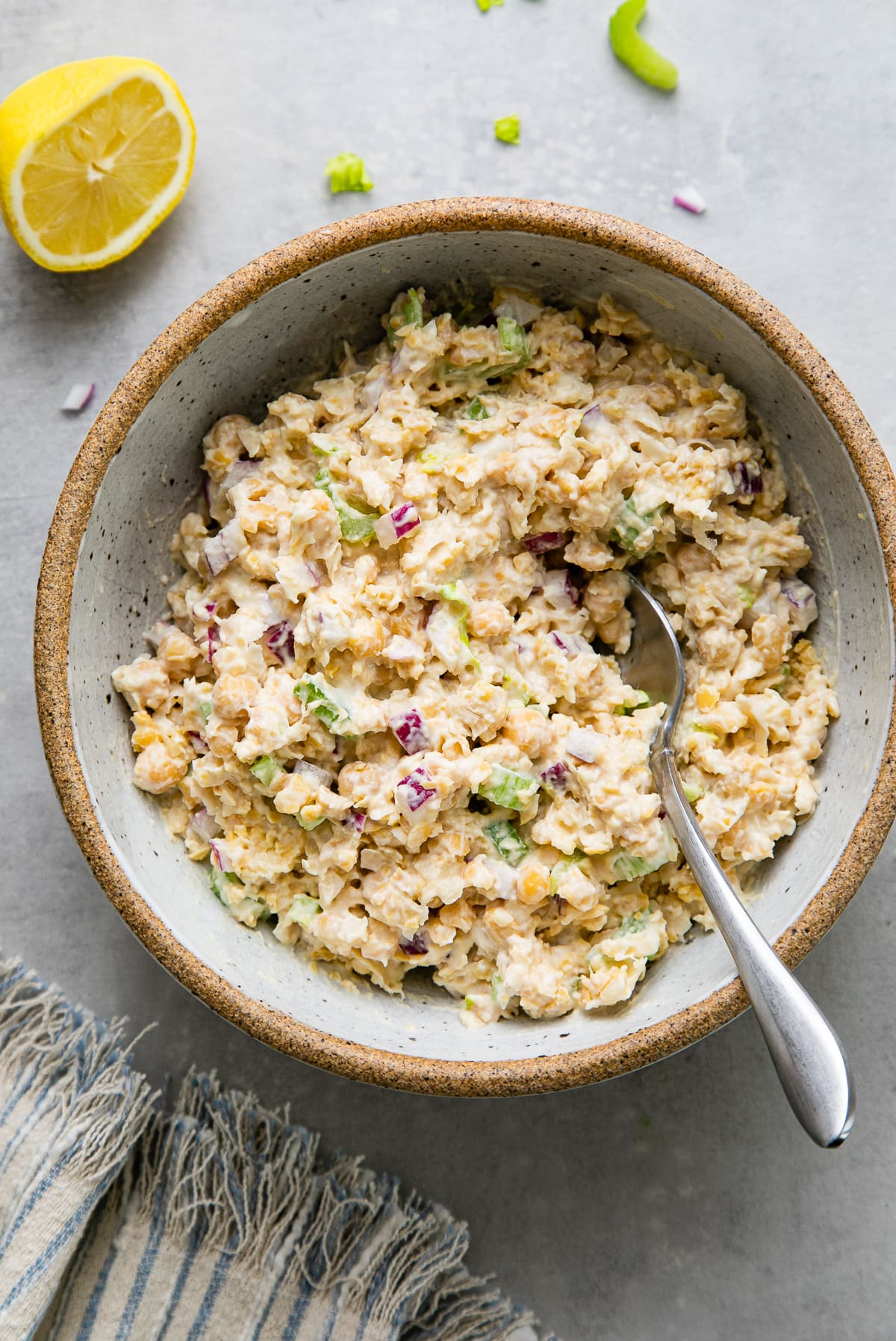 How To Store + Meal Prep
Refrigerator: Leftovers can be stored in the refrigerator for up to 5 days, in a covered container. Stir well before using.
Meal prep: For meal prep, make the salad as directed and store in the refrigerator. Meal prep with leafy greens, or make sandwiches or wraps.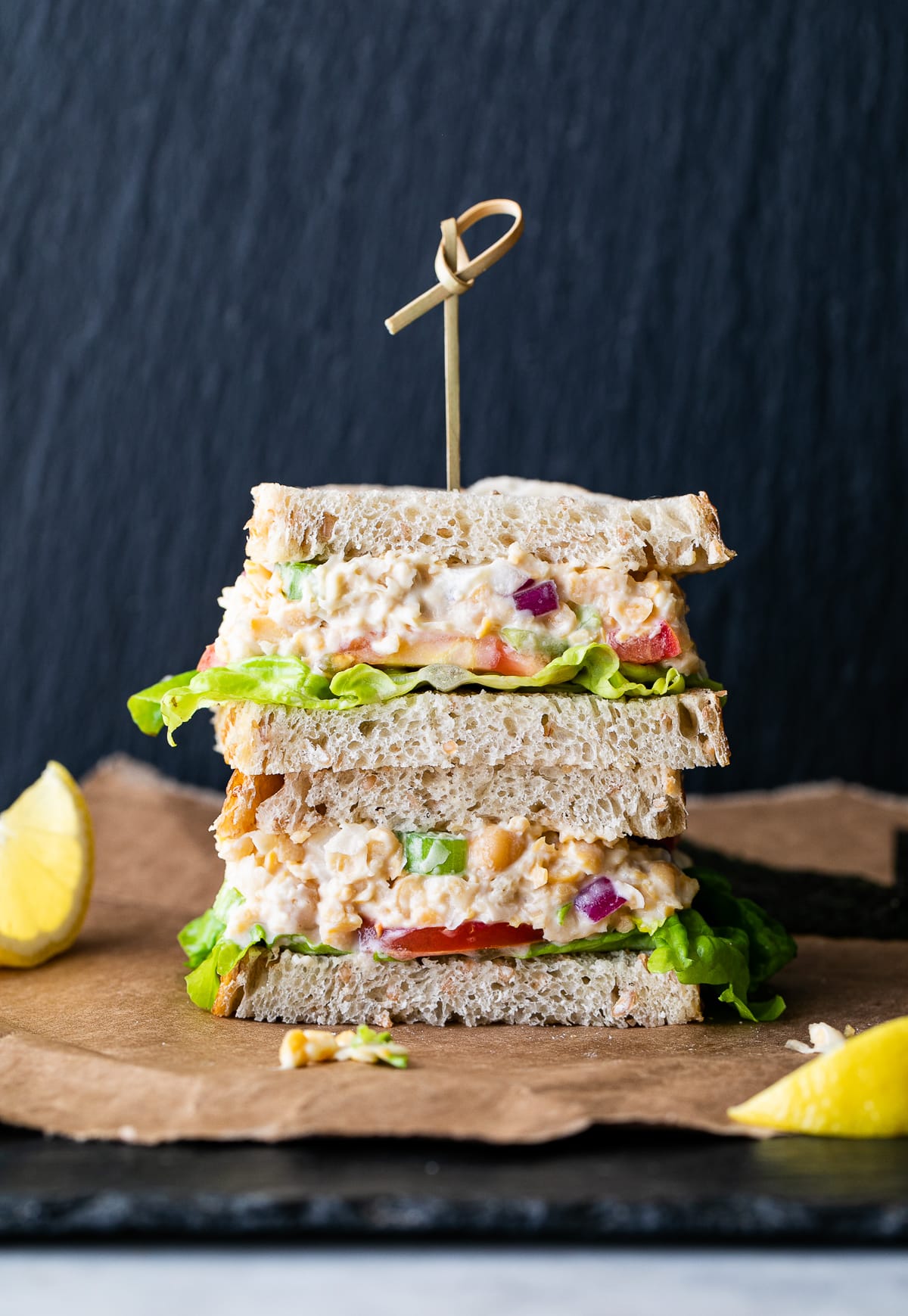 Serving Suggestions
This vegan tuna salad is versatile and can be served as is or used as a filler. Here are a few of my favorite options:
Salad: Serve with leafy greens as a salad.
Wraps: It's great for making tortilla wraps, tucking into pita bread or made into lettuce wraps.
Sandwiches: It's perfect as a sandwich filler or served as an open-faced sandwich.
Crackers: Scoop up with a variety of crackers, pita chips, or rye crisps.
Veggie sticks: It's delicious with fresh veggies sticks for scooping. Use red bell pepper, celery or carrots, cucumber, zucchini, etc.
More Easy Chickpea Salads
Because you can never have too many variations of creamy mashed chickpea salads, try these other wonderful recipes. You may just find a new favorite for the meal rotation!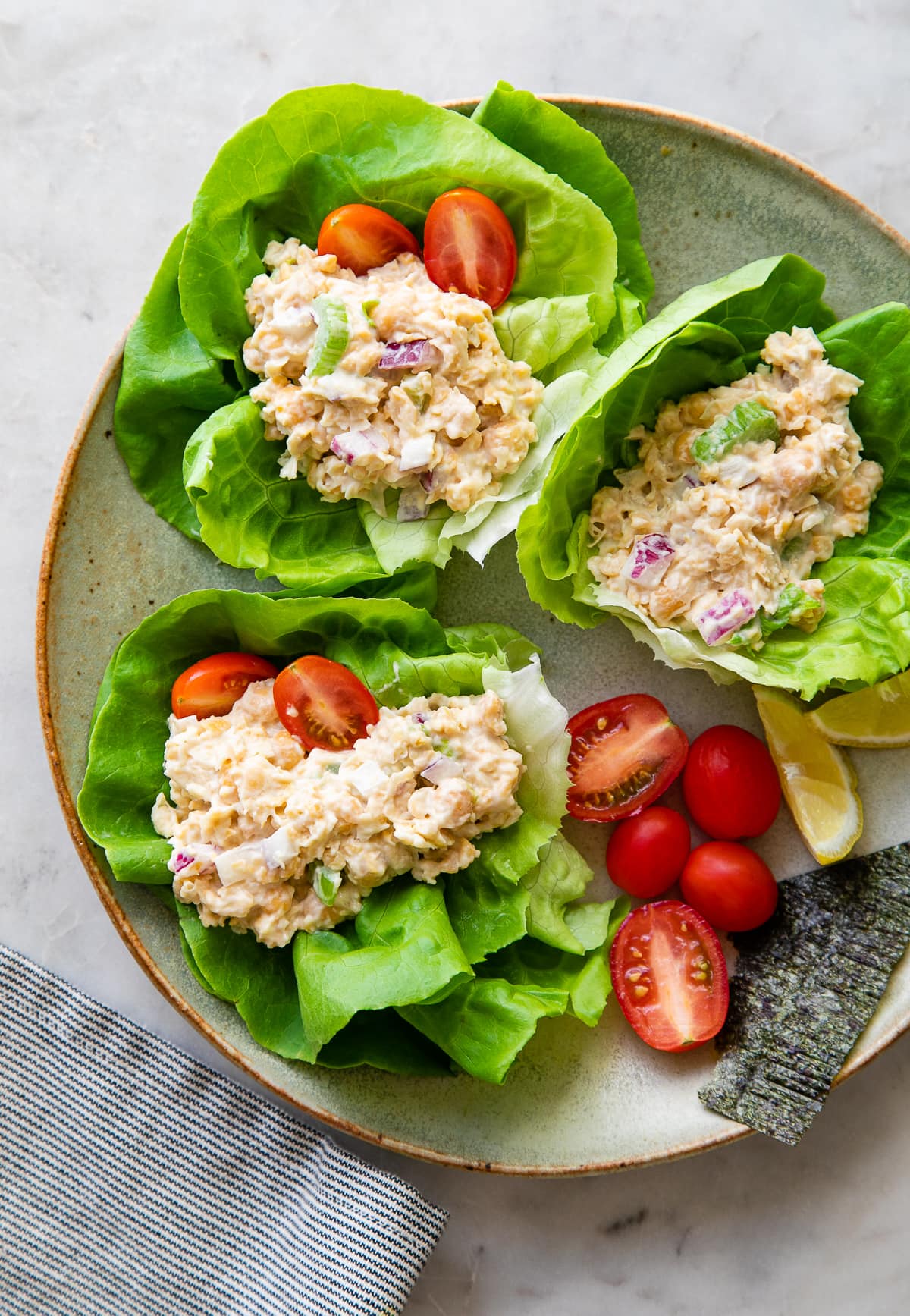 If you try this vegan tuna salad recipe, please let us know! Leave a comment and rate it below. I love to hear what you think, or any changes you make.
Print
'CHICKPEA OF THE SEA' TUNA SALAD SANDWICH
This is a great mock 'tuna' salad sandwich using chickpeas. Alternately, serve this as lettuce wraps or use sliced vegetables like bell pepper and cucumber as scoopers.
Author: Julie | The Simple Veganista
Prep Time:

10 min

Total Time:

10 min

Yield:

Serves 3

Category:

Salad, Entree

Method:

mix

Cuisine:

American

Diet:

Vegan
1

can (14 oz) chickpeas (garbanzo beans), drained and rinsed
juice of

1/2

lemon + some zest if you like

1/4

–

1/3

cup of vegan mayo (or

3 – 4 tablespoons

hummus

or

white bean hummus

+

2

–

3

tablespoons water)

1/4 cup

celery (about

2

small stalks, leaves ok too), chopped

1/4 cup

red onion (about

1/2

small), chopped

1/4

–

1/2

teaspoon garlic powder
himalayan salt & cracked pepper, to taste
dash of cayenne, optional
Other optional ingredients:
crushed nori sheets or dulse (seaweed)

1 tablespoon

chia seeds or hemp hearts for some omega 3 & 6
sweet or dill pickle relish
To Serve
6

slices whole grain, sprouted whole grain flourless or artisan bread, to serve
leafy greens, to serve
nori sheets, to serve (optional)
pickles, optional
Instructions
Mash chickpeas: Drain and rinse chickpeas, place in medium size bowl and roughly mash about 3/4 of the chickpeas with the back of a fork or potato masher, until desired consistency.
Assemble salad: Add the rest of the ingredients and mix well, adding any extra ingredients you like. Alternatively, you can use a food processor starting with the beans, pulse a few times, add remaining ingredients pulsing again a few times until desired consistency.
Serve chilled or at room temperature.
Ways to serve:
Serve on bread of choice, along with some leafy greens and the optional 1/4 sheet of nori.

You can also serve on bibb or romaine lettuce like a wrap, instead of using bread, for a gluten-free meal like shown below.

Try serving with sliced fresh scoopable veggies like cucumber, red bell peppers, zucchini, etc.

Lastly, pair with your favorite crackers.
Salad serves 3 generously.
Store: Leftovers in an airtight container in the refrigerator for up to 5 – 6 days. Stir before serving.
Notes
If using store bought hummus that is thick, take a couple heaping tablespoons of the hummus in a small bowl and add 1 tablespoon water at a time to thin to desired consistency making for a really nice, creamy binder. And if using the hummus recipe link in the ingredient list, omit the cumin.
The chickpea of the sea salad is great on leafy greens as a wrap (pictured below). Cool and crunchy!
Nutrition facts is for the salad only (bread not included). Using the right bread may add another 10 grams of protein. Not too bad for a vegan sandwich!
Updated: Vegan Chickpea Tuna Salad Sandwich was originally published in September 2012. It has been retested and updated with new photos in July 2020.
FOLLOW TSV on Facebook, Instagram, Pinterest or RSS for more updates and inspiration!