EASY VEGAN WAFFLES (5 INGREDIENTS)
Easy Vegan Waffles made with 5 ingredients cook up fluffy on the inside and crispy on the outside for a quick and delicious breakfast, lunch, or dinner! Easily customizable to be oil-free or gluten-free.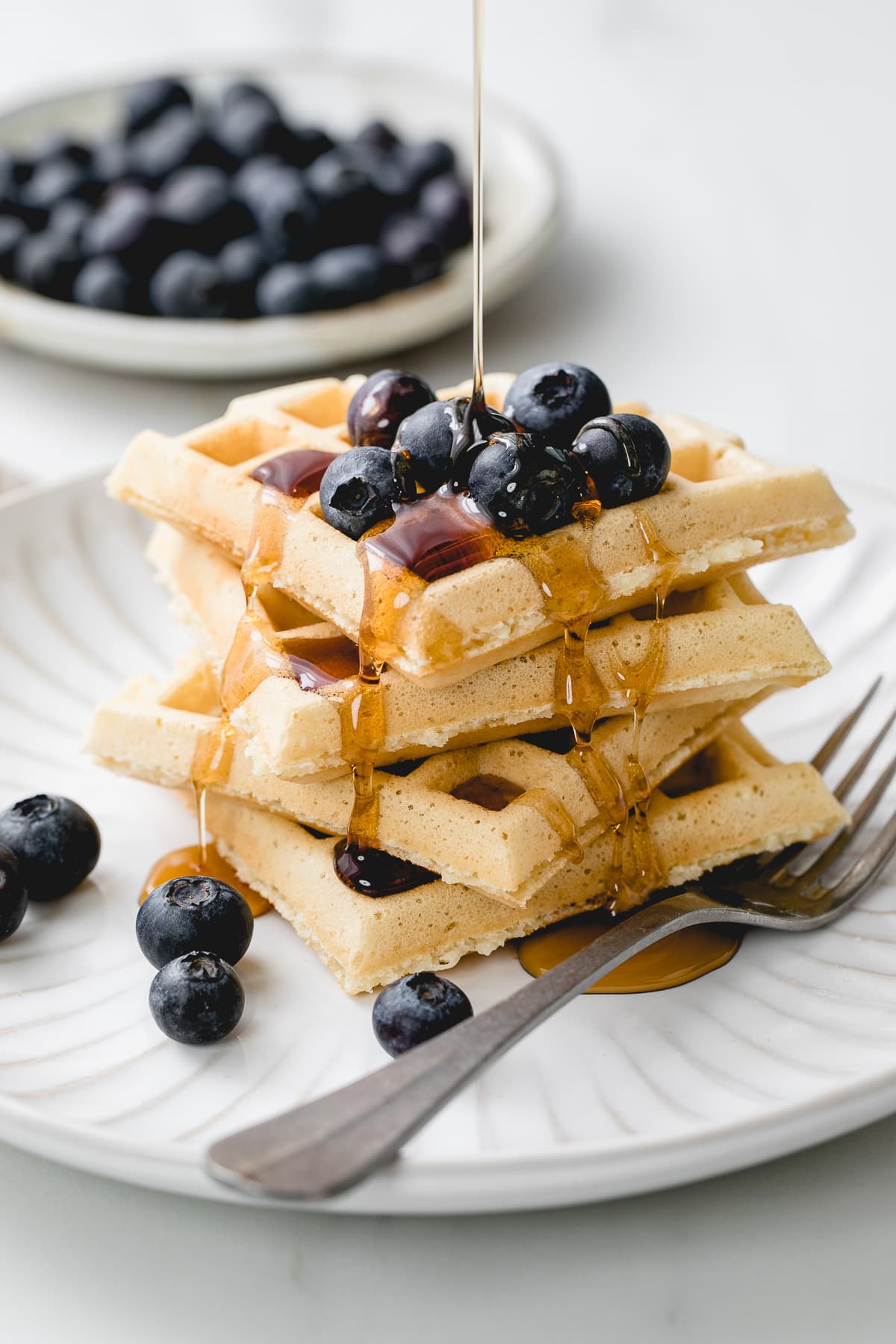 If you love waffles as much as I do and can eat them all day, every day, you'll love this quick and easy vegan waffle recipe that's eggless, dairy-free and delicious.
They make a great addition to the recipe collection along with these healthy Applesauce Waffles, Vegan Belgian Waffles and gluten-free Buckwheat Chocolate Waffles. All are delicious and perfect for your breakfast, lunch or dinner meal rotation!
Made with just 5 simple ingredients, these vegan waffles cook up fluffy on the inside and crispy on the outside. And they are ready in just 15 minutes!
Serve your waffles with pure maple syrup and an assortment of toppings. I have a convenient list of serving suggestions below so you can mix and match anything you like.
Break out the waffle iron and let's make waffles!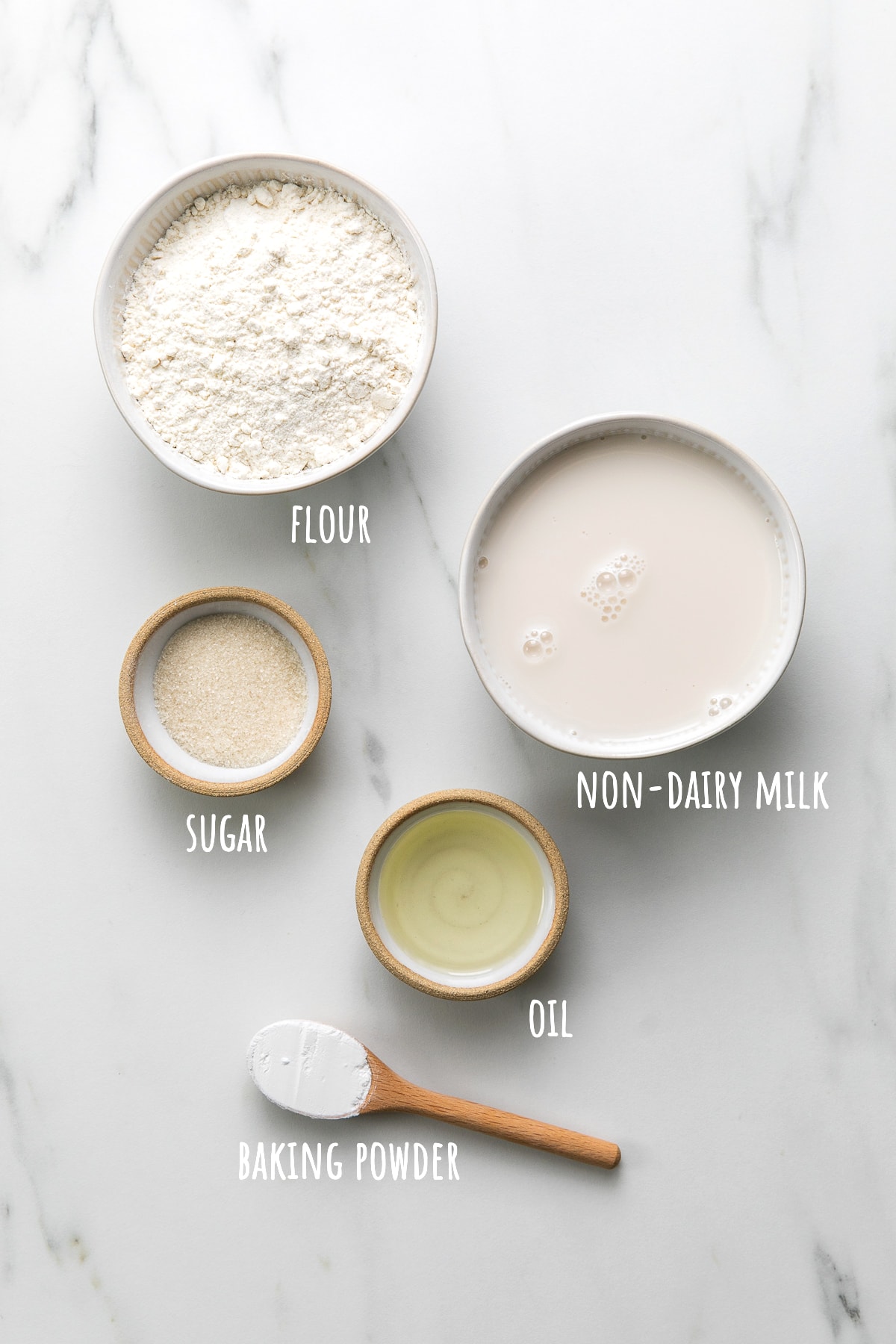 Ingredients + Substitutions
In this recipe, flour, sugar, and almond milk are mixed into a batter, poured onto a hot waffle griddle and cooked until light and crispy for a healthy breakfast that's quick and easy to make.
Here is everything you will need, plus ingredient variations (measurements are in the recipe card below):
Flour – These were made using spelt flour, but sub in your favorite. I've also used both all-purpose and whole wheat flours, both worked well.
Sugar – Organic pure cane sugar is what I used, but coconut or turbinado is great too.
Baking Powder – This is how we will make the waffles light and airy on the inside and crispy on the outside.
Unsweetened Vanilla Almond Milk – This is my favorite when baking, but use your preferred non-dairy plant milk (oat, soy, cashew, etc.). If you're in a pinch, water will do fine too. If using non-vanilla flavor, add 1 teaspoon of vanilla with the milk.
Oil – I used light flavored olive oil, but melted vegan butter (I recommend Miyokos), coconut oil, or your favorite baking oil will do. For an oil-free version, see notes.
Waffle Maker – I used this classic waffle maker from Cuisinart (affiliate link). It's super easy to use and cleans up well. The instructions say to set the temp at #3, but I prefer my waffles with a little golden color and set it at #5. If using a different waffle maker, follow the manufacturer's instructions.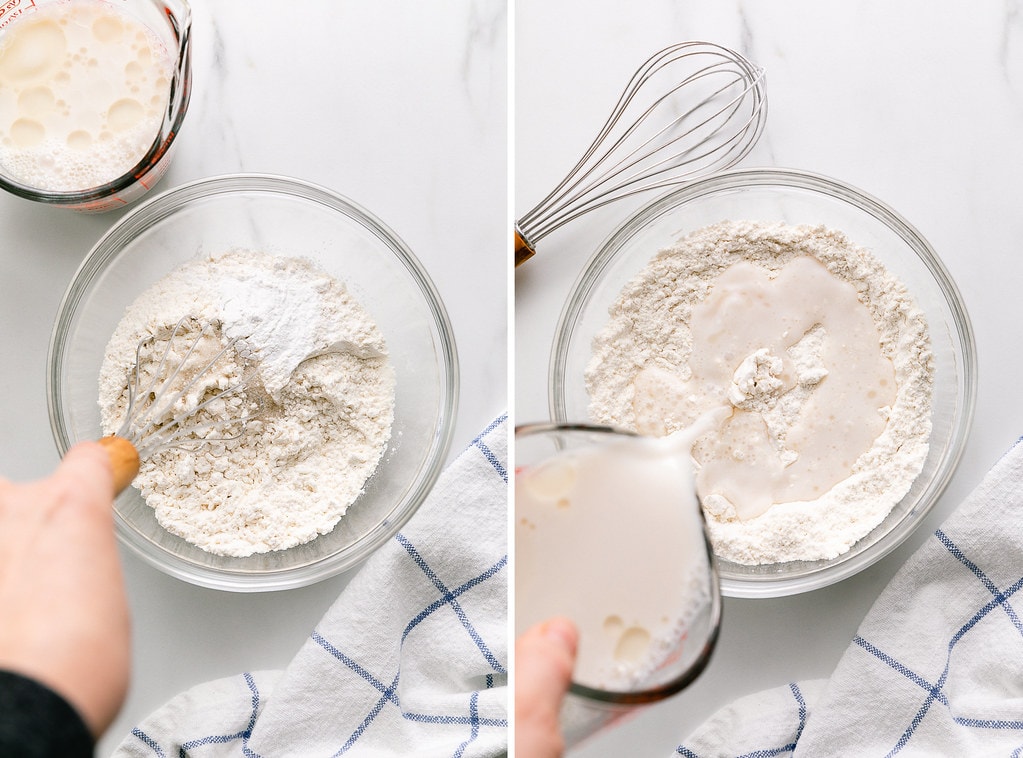 How To Make Vegan Waffles
Making vegan waffles is easy as can be! Here is a quick look at the steps with photos. (Note, the full printable recipe is at the bottom of the post)
Add the flour, sugar, baking powder into a medium mixing bowl, whisk to combine.
Combine the milk and oil/applesauce together. Pour the wet ingredients into the dry ingredients and mix well to combine.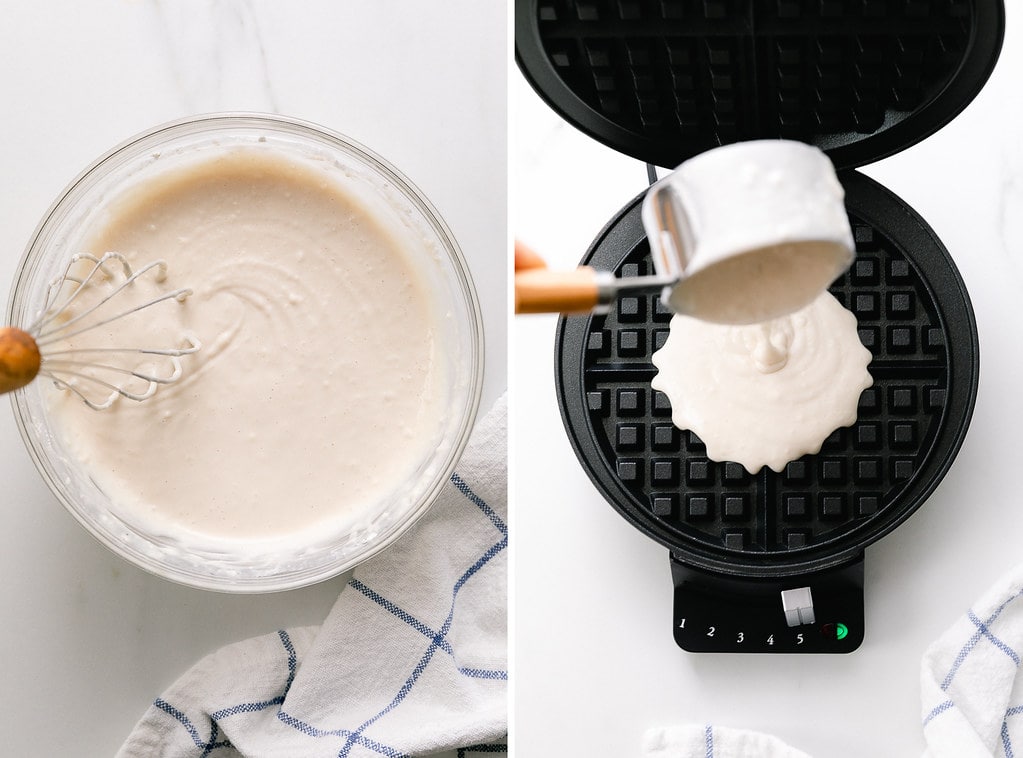 If waffle iron isn't nonstick, spray with cooking oil.
Next, scoop up the batter and pour in the center of a preheated waffle maker and close the lid.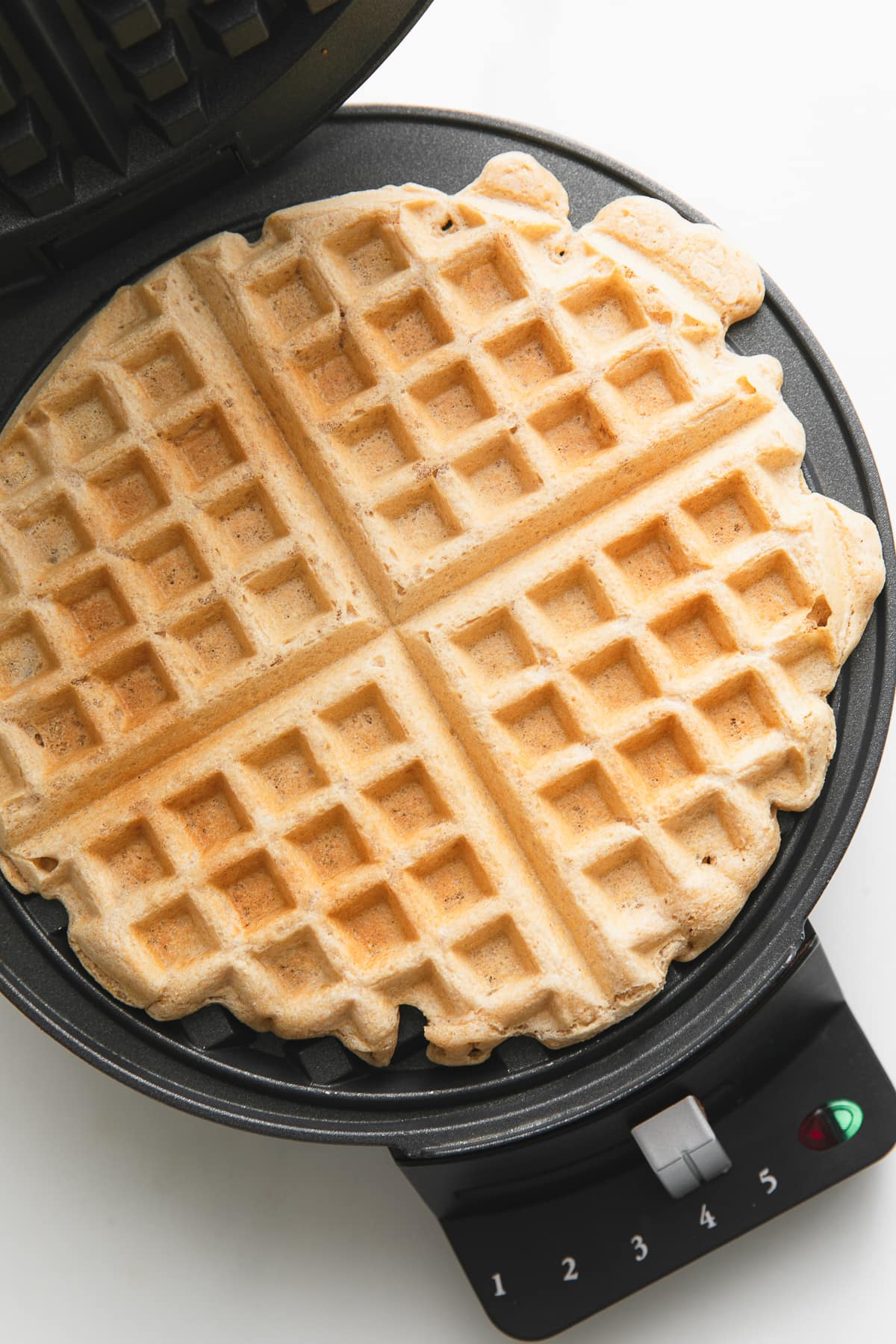 Wait for the light to turn green and gently remove the waffle with the tip of a fork. Repeat until the batter is gone. Makes about 5 waffles.
And there you have it, vegan waffles made easy and delicious!
Now it's your turn! I encourage you to start (or end) your day with a plate of these freshly made waffles. The whole family will love them!
Top Tips
Make vegan buttermilk waffles. To make vegan buttermilk, add the juice of 1/2 lemon or 2 teaspoons of apple cider vinegar to the milk and let it rest for 10 minutes. The acid will curdle the milk and give it a tang.
Add extra flavors. Try adding 1 tsp vanilla (especially if you are using plain milk) or up to 1 tsp of cinnamon. You can also toss in 1/4 – 1/3 cup of chocolate chips or blueberries to the batter for variation.
Crispy waffles. I find letting the waffles cook a little longer, about 10 – 15 seconds, will crisp them up nicely so you don't end up with floppy waffles. Just be sure to test with your waffle iron as the time may vary.
Super fluffy waffles. For extra fluffy waffles, reduce the non-dairy milk to 1 1/2 cups, instead of 1 3/4 cups.
Commonly Asked Questions
Can I add tasty add-ins?
Absolutely! Toss in a small handful of cacao nibs or mini chocolate chips, 1/4 cup (338 ml) of peanut butter for every cup of flour, a handful of blueberries or other diced or small berries, or 1 – 2 teaspoons vanilla extract, or 1 teaspoon cinnamon.
Can I make this recipe gluten-free?
Yes! To make gluten free vegan waffles, use any gluten-free flour blend, oat flour or buckwheat flour 1-1 for perfectly, light and crispy waffles. The only flour I do not recommend is using only coconut flour, it's super tricky to work with.
Can I make oil-free waffles?
Yes! For vegan oil-free waffles, simply replace the oil with unsweetened applesauce! And be sure your waffle maker is non-stick so you don't need to coat it with oil.
Can I make vegan Belgian waffles with this recipe?
You sure can! To make belgian waffles, pour 1 1/4 cups of the batter onto the belgian waffle iron. Recipe will make 2 belgian waffles.
Why do my waffles split in half when opening the waffle maker?
This could be due to the waffles being undercooked. You may need to turn up the heat or leave the waffles a few seconds extra so they cook thoroughly before opening the waffle lid.
How To Store + Freeze
Waffles can be stored in the refrigerator or freezer with these easy instructions. You can even make extra waffles to store for a quick and easy breakfast or snack.
Refrigerator: Leftovers will keep in the refrigerator for up to 7 – 10 days, in a covered container.
Freezer: For longer storage, keep vegan waffles in the freezer for up to 2 – 3 months. To freeze, let cool completely and store in sealed freezer safe containers or ziplock bags, removing as much as possible before sealing.
Reheat: To reheat, simply pop frozen or refrigerated waffles in the toaster or toaster oven and enjoy! For larger batches, warm waffles in a preheated oven set to 350 degrees for 10 – 15 minutes on a lightly greased or lined baking sheet.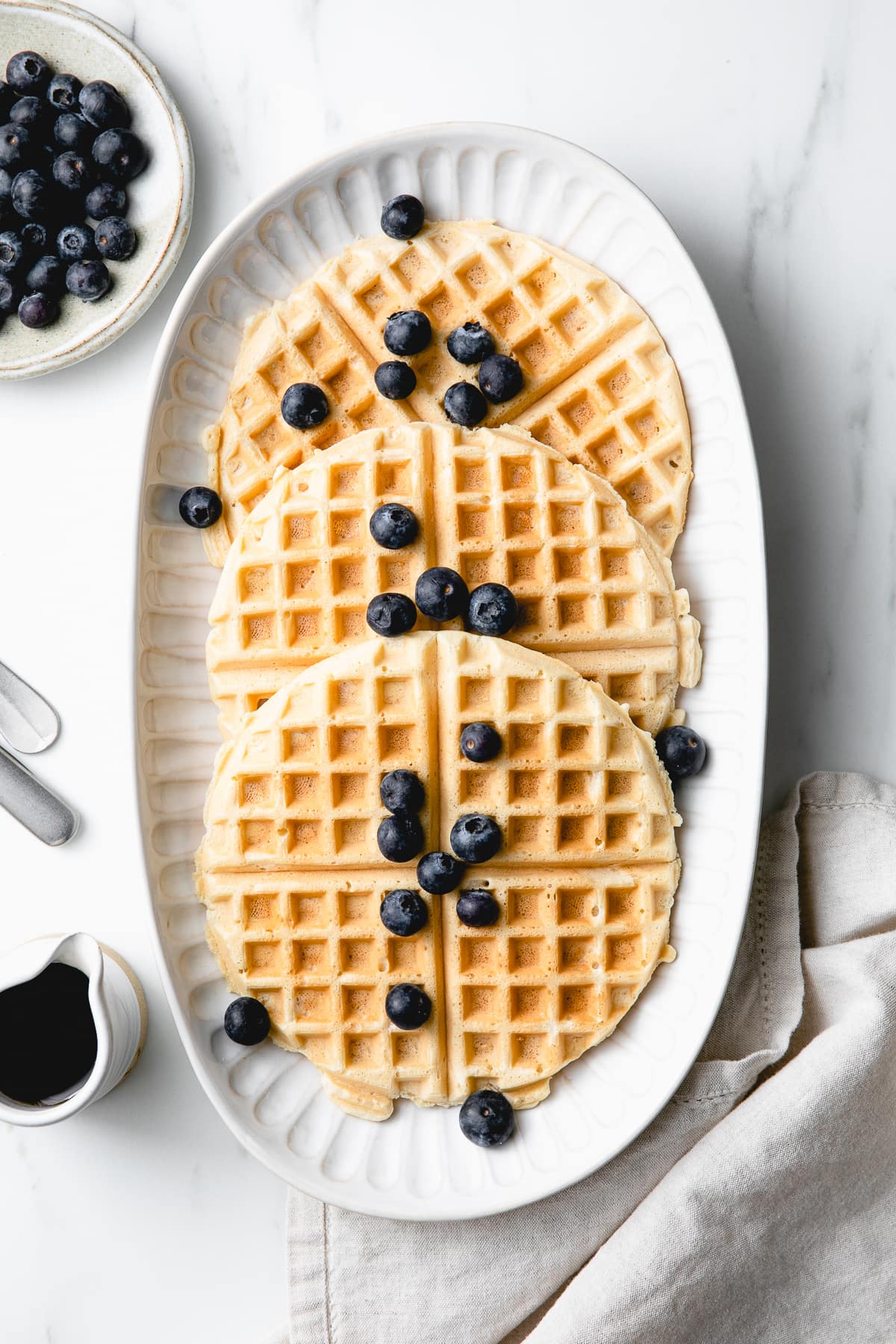 Serving Suggestions
Adding a drizzle of pure maple syrup is a classic way to serve waffles. Here a few more delicious options: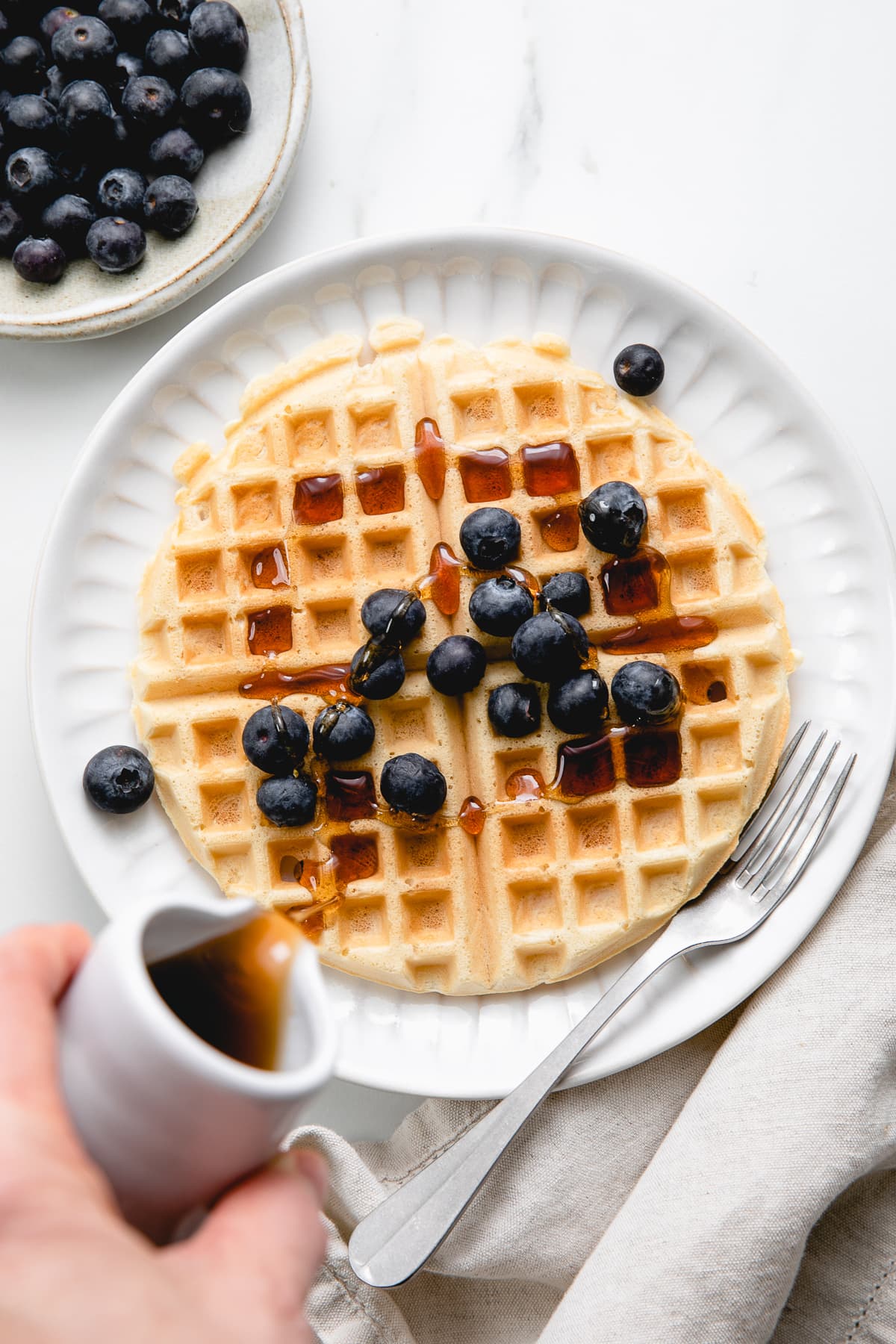 If you try this vegan waffle recipe or have a question, please let me know! Leave a comment and rate it below. I love to hear what you think, or any changes you make.
Print
BEST VEGAN WAFFLES (EASY + HEALTHY)
Updated: Vegan Waffles was originally published in September 2018. It has been retested and updated with new photos and helpful tips in January 2021. Recipe ingredients have been slightly changed as seen in the recipe card notes above.
FOLLOW TSV on Facebook, Instagram, Pinterest or RSS for more updates and inspiration!