OVERNIGHT STEEL-CUT OATS OATMEAL (SLOW COOKER)
Easy Overnight Steel-Cut Oats Oatmeal made in a slow cooker with almond milk, bananas, cinnamon, vanilla and naturally sweetened with pure maple syrup is a healthy and delicious way to start your day!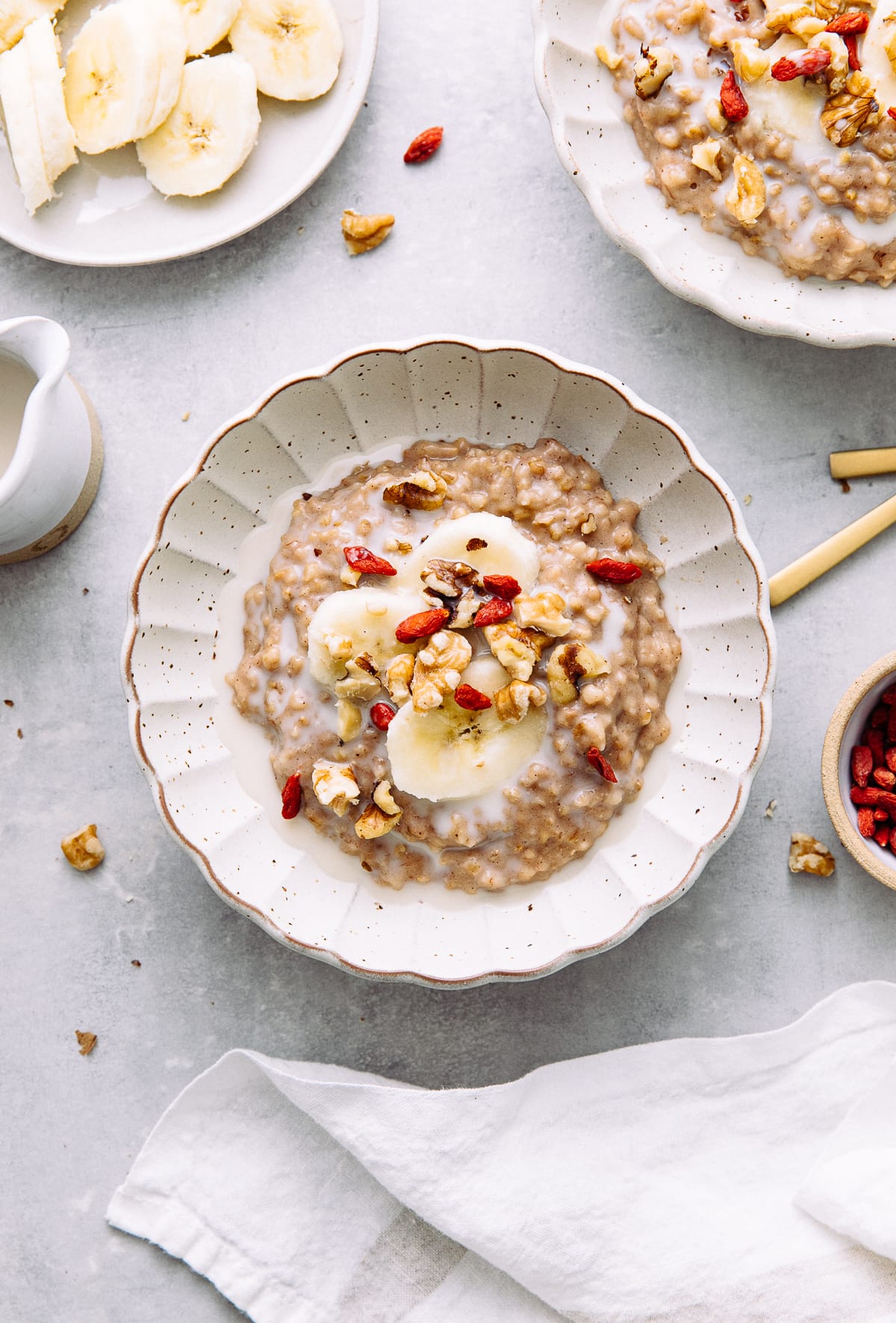 As we continue into the new year, I wanted to share an easy vegan breakfast idea that's both healthy and delicious. It's one that will get you going in the morning, keeping you satisfied and fueled.
Since I've been on a slow cooker kick lately, this overnight steel cut oats recipe fits right in. I just love how easy it is to use a slow cooker. Simply throw your ingredients in and let it cook. It doesn't get much simpler than that!
You'll find the overnight steel cut oatmeal to include pantry staples that are easily accessible, making it perfect for the meal rotation. It also works as a great lunch or dinner option from time to time!
I encourage you to put the ingredients on your grocery list, all of which are whole food plant based, and keep your new year going healthy and strong!
Looking to make healthy, to-go breakfast jars with this recipe, be sure to check out how to with this Overnight Steel Cut Oats Breakfast Jars!
Steel-Cut Oats vs. Old Fashioned Oats
Steel-cut oats cook up tender and creamy. For the longest time I was under the impression that steel-cut oats were a bit more nutritionally beneficial than old-fashioned oats, but come to find out they are just about the same.
The main differences between steel cut oats and rolled oats are in the calories and processing. Steel-cut oats have about 20 fewer calories per serving compared to regular oats. The most significant difference is how they are processed. Regular and quick cooking oats are rolled and steamed for faster cooking, while steel-cut oats are simply chopped up whole oat groats.
I love all the different types of oats, but have a growing affinity for steel-cut oats. In this recipe I don't suggest substituting either regular or quick oats in place of the steel-cut oats as they cook slightly differently. If you've never had steel-cut oats, this is a perfect recipe to try for your first batch. They are delicious!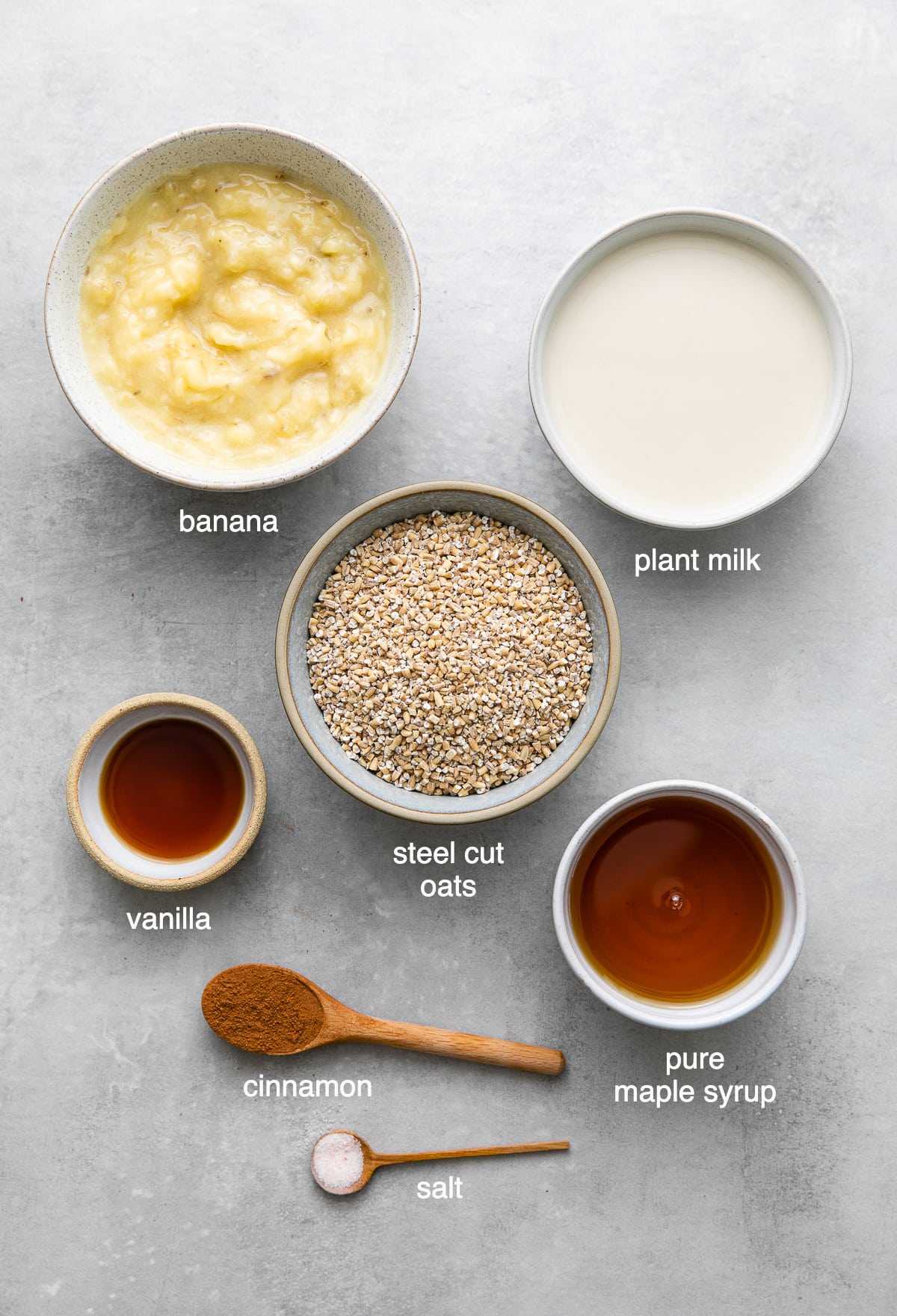 Ingredients You'll Need
Overnight oatmeal starts with steel cut oats simmered with water, non-dairy milk, sweetener, and cinnamon slow cooked overnight using a slow cooker for a set it and forget, easy oatmeal recipe that's heart healthy and delicious!
Steel-Cut Oats – can not be substituted
Banana – adds a slight sweetness and heartiness to the overall dish, can also sub with pumpkin puree – can be optional
Oat milk – or use your favorite plant milk such as almond, hemp, cashew, soy, etc.
Pure maple syrup – can sub with organic pure cane sugar, date sugar, coconut sugar, or monk fruit sweetener.
Cinnamon
Vanilla – use vanilla extract, vanilla powder, or seeds scraped from a vanilla bean pod
Salt – just a pinch to boost flavor, can be optional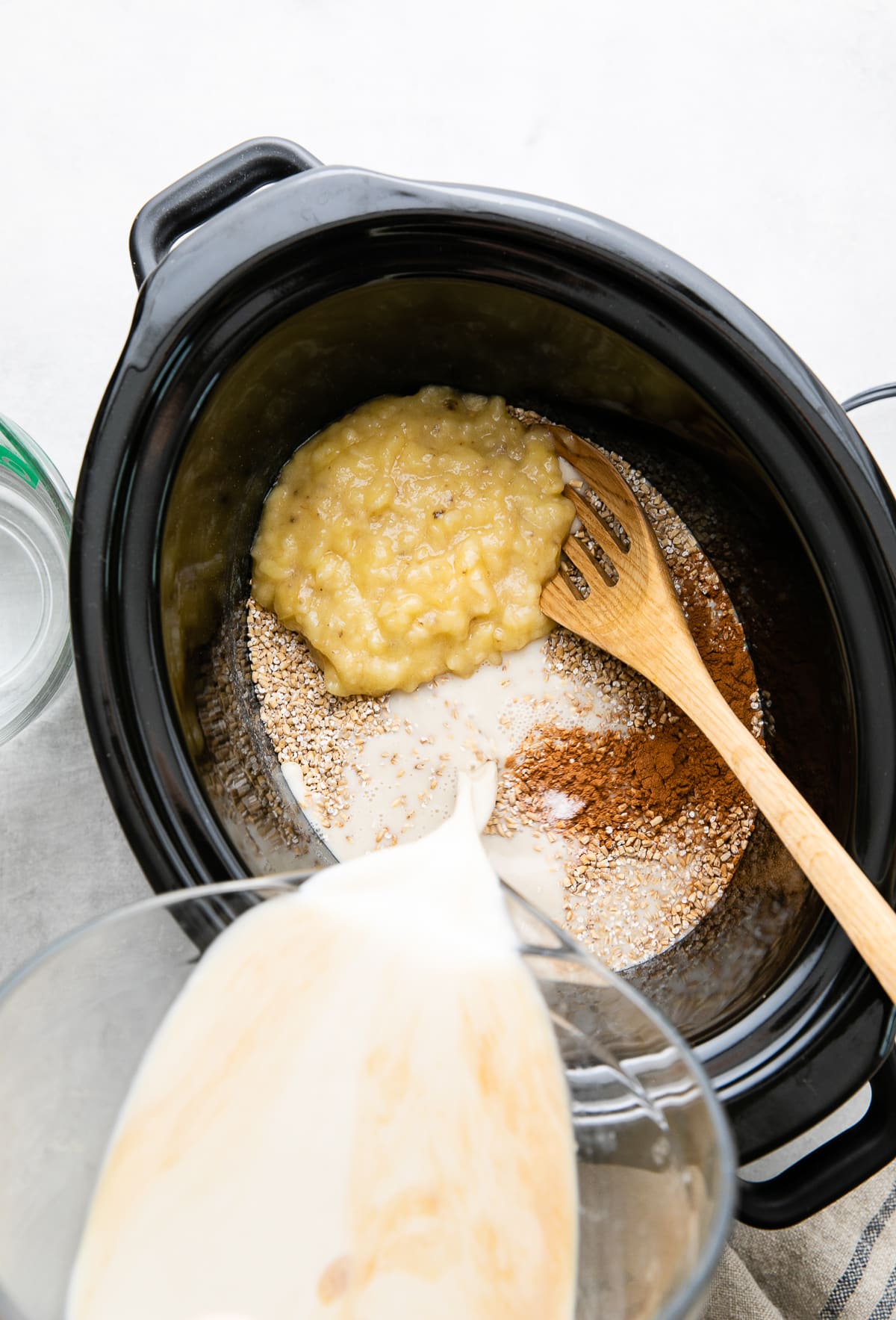 How To Make Overnight Steel-Cut Oats Oatmeal
Using a crock pot makes the recipe extremely easy to make. Simply place all the ingredients into the bottom of your slow cooker and set it on LOW for 8 hours. The oats will be ready in the morning and you'll have a hearty, creamy breakfast ready to be eaten or taken on the go. For a faster time, cook on HIGH for 3 – 4 hours.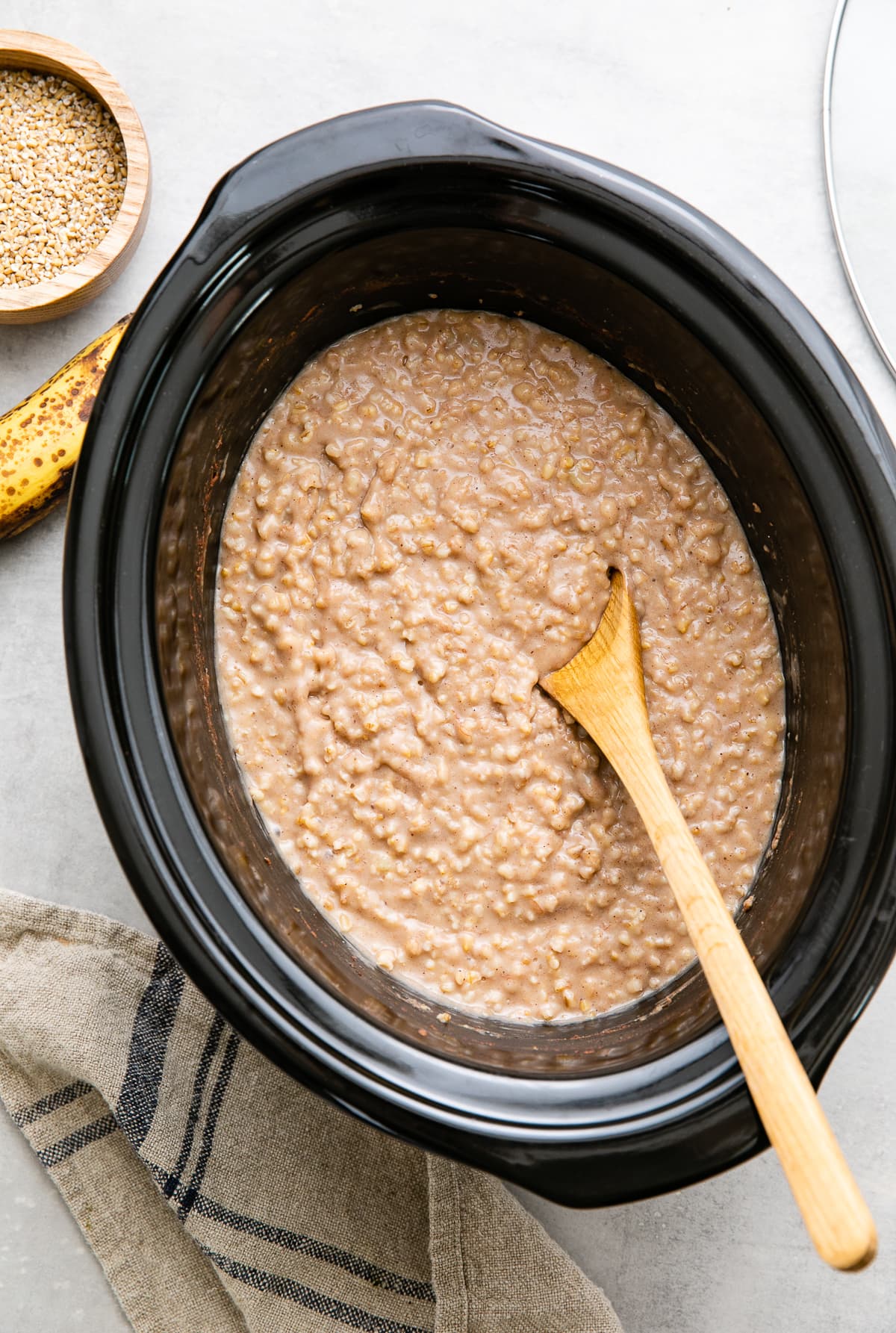 Once done, overnight oatmeal with steel cut oats is super creamy with bits of oats adding wonderful texture.
It's perfectly sweetened with the banana and pure maple syrup, and the cinnamon ties it altogether for a warm and hearty overnight oatmeal with heart smart steel cut oats.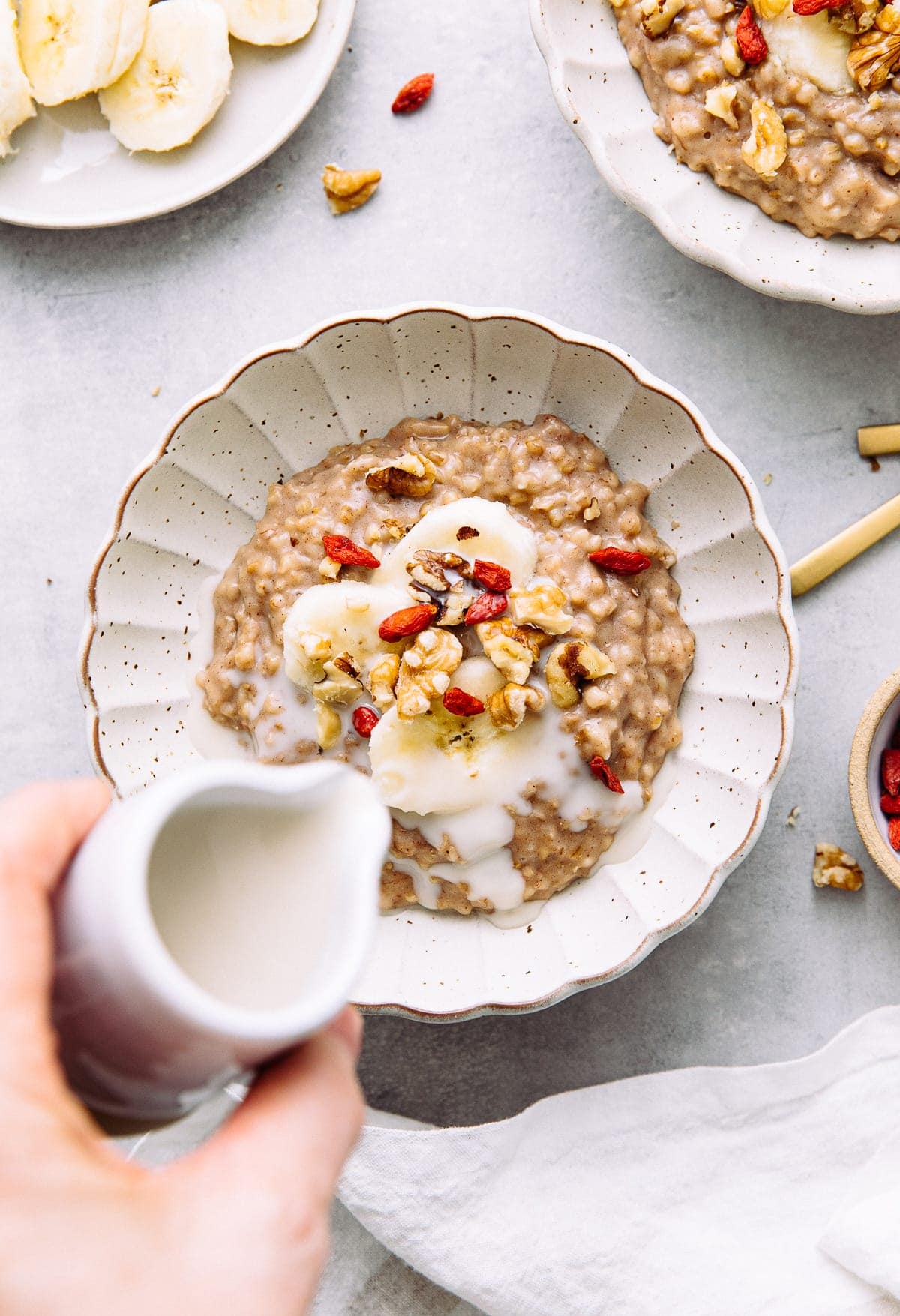 Top with fresh sliced banana, chopped walnuts, a few goji berries and splash of your favorite non-dairy milk.
And there you have it, flavorful overnight Steel-Cut Oatmeal with bananas and nuts, made simple, wholesome and delicious!
Top Tips
Change up the fruit puree. The banana is super delicious and always in season. When fall rolls around, change it up with 100% pumpkin puree to celebrate the autumn!
Use all water or all non-dairy milk. I've used a combo in this recipe, but you can use the water and milk in any combination you like, as long as it equals 6 cups to the 1 1/2 cups of steel cut oats.
Lightly grease the sides of the slow cooker bowl. To keep the oat mixture from sticking to the sides of the bowl while cooking, lightly grease or spray the sides with oil.
How To Store + Reheat
Refrigerator: Leftovers can be stored in the refrigerator for up to 5 – 6 days. For easy grab and go meals, mason jars are perfect.
Freezer: Overnight steel cut oats is freezer friendly and can be stored for up to 2 – 3 months in the freezer. To freeze, let cool completely and transfer to multi-use freezer safe containers (affiliate link) or ziplock bags. Let thaw in the refrigerator before reheating.
Reheat: Reheat overnight oatmeal on the stovetop over low heat, adding a splash of non-dairy milk or water, until warmed through. Alternatively, warm in the microwave using 30 – 60 second intervals, stirring after each, until warmed through.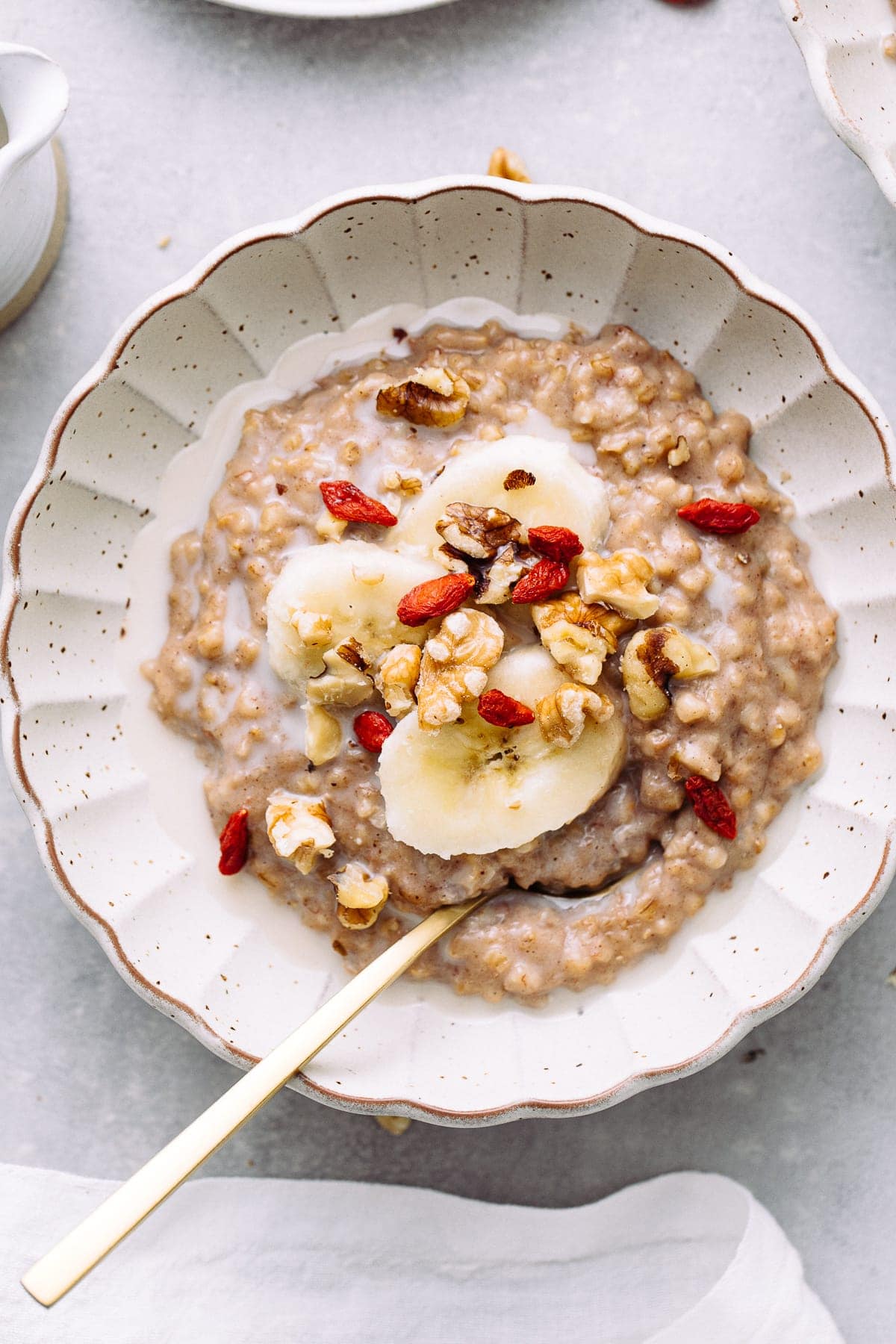 More Oatmeal Recipes You'll Love
Oatmeal is accessible, economical and so versatile. Take a look at these other vegan oatmeal recipes, you may find a new favorite breakfast idea!
If you try this steel cut oats recipe, please let me know! Leave a comment and rate it below. I love to hear what you think, or any changes you make.
Print
OVERNIGHT STEEL-CUT OATS OATMEAL
Overnight Steel Cut Oats Oatmeal made in a slow cooker with banana, cinnamon, vanilla, and naturally sweetened with pure maple syrup is a warm and cozy way to start the day! 100% whole food plant based recipe.
1 1/2 cups

steel-cut oats

3 cups

water

3 cups

unsweetened almond milk (or your favorite plant milk)

1

–

2

ripe bananas (about

3/4

–

1

cup), mashed

1/4 cup

pure maple syrup

1 1/2 teaspoons

cinnamon

1 teaspoon

vanilla extract or vanilla powder
pinch of mineral salt
Optional toppings
chopped walnuts, almonds or pecans
banana slices or fresh berries
goji berries or toasted coconut
Instructions
Grease bowl: Lightly grease the sides of the insert with oil. This will keep the mixture from sticking to the sides, but can be optional.
Slow cooker: In a 4 – 6 quart crock pot, place oats, water, milk, mashed banana, maple syrup, cinnamon, vanilla and pinch of salt, stir to mix, cover and cook on low for 3 – 5 hours, or up to 8 hours for overnight. If you can, it does help to stir 2 -3 times during cooking, but is not necessary.
Cool down: Once done, give a good stir, and let cool a bit. Oats will thicken upon standing. Add a tad extra non-dairy milk or water as needed to create desired consistency. Adding more liquid will create a creamier consistency.
Serve: Spoon into individual serving bowls and top with any of the optional toppings of choice. Drizzle a little non-dairy milk over top if you like.
Serves 4 – 6
Store: Leftovers can be stored in an airtight container in the refrigerator for 5 – days. Can be reheated with a little milk or water on the stove top over low, or in the microwave for a minute or two.
Notes
Make this virtually fat-free by omitting nuts.
Bananas can be mashed smooth or left a little chunky. Also, try subbing the banana with pumpkin puree.
I do not recommend substituting old-fashioned or quick cooking oats in place of the steel-cut oats as regular oats require less liquids.
Updated: Overnight Steel Cut Oatmeal was originally published in January 2017. It has been retested and updated with new photos and helpful tips in September 2020.
FOLLOW TSV on Facebook, Instagram, Pinterest or RSS for more updates and inspiration!