QUICK & HEALTHY BANANA BOATS
Looking for a quick and healthy, vegan snack the kids (and adults) will just LOVE, and love to make? This easy banana boats recipe is just what you need!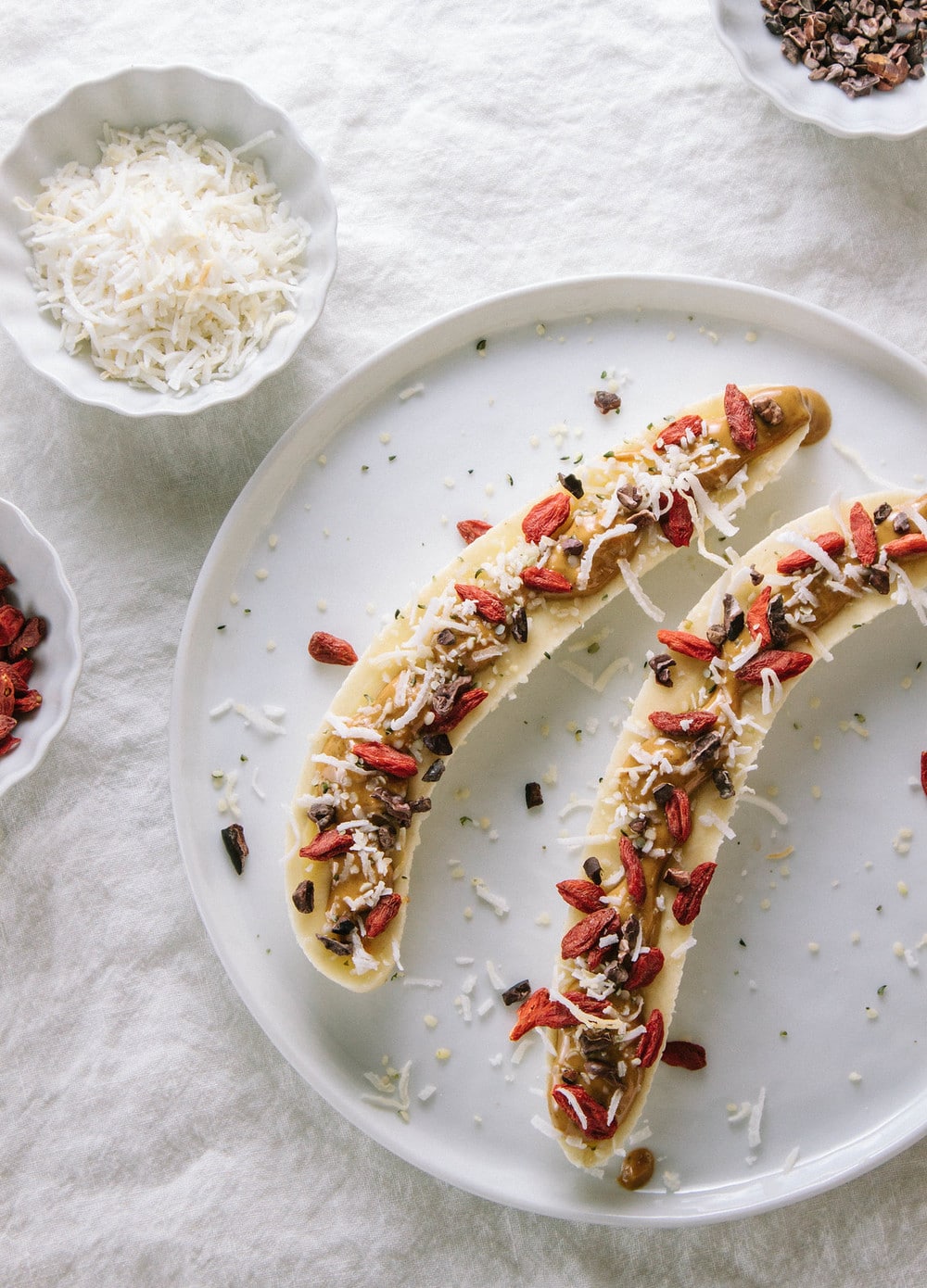 I know this is about as simple as it gets but I had to finally share this with you all. These easy banana boats are a great quick, healthy snack or breakfast. If I hadn't of seen it before, I would never have thought to make it myself. I first spied this creation many moons ago and it has stuck with me ever since. So here it is, in all it's simplicity, for you to gather your ingredients and make one for yourself!
Want to watch a quick hyper-lapse video on how to make a banana boat? Check out the one I posted on Instagram
Before we continue, I thought it would be fun to share some banana fun facts!
If you peel a banana from the bottom up you won't get the stringy things. And in case you didn't know those stringy things are called phloem (pronounced FLOM).
Bananas are one of the few foods to contain the 6 major vitamin groups.
The scientific name for banana is musa sapientum, which means 'fruit of the wise men'.
Bananas are low in calories and have no fat, no cholesterol, and no sodium. They contain vitamin C, potassium, fiber, and vitamin B6.
Bananas don't grow on trees. They're actually a giant herb. (Interesting, never knew this!)
You can use the inside of a banana peel to clean and polish leather shoes.
Fibers isolated from bananas can be used in the manufacture of paper and fabrics. (This is right up there with hemp fibers, let's do it!)
Now let's get busy and make a banana boat!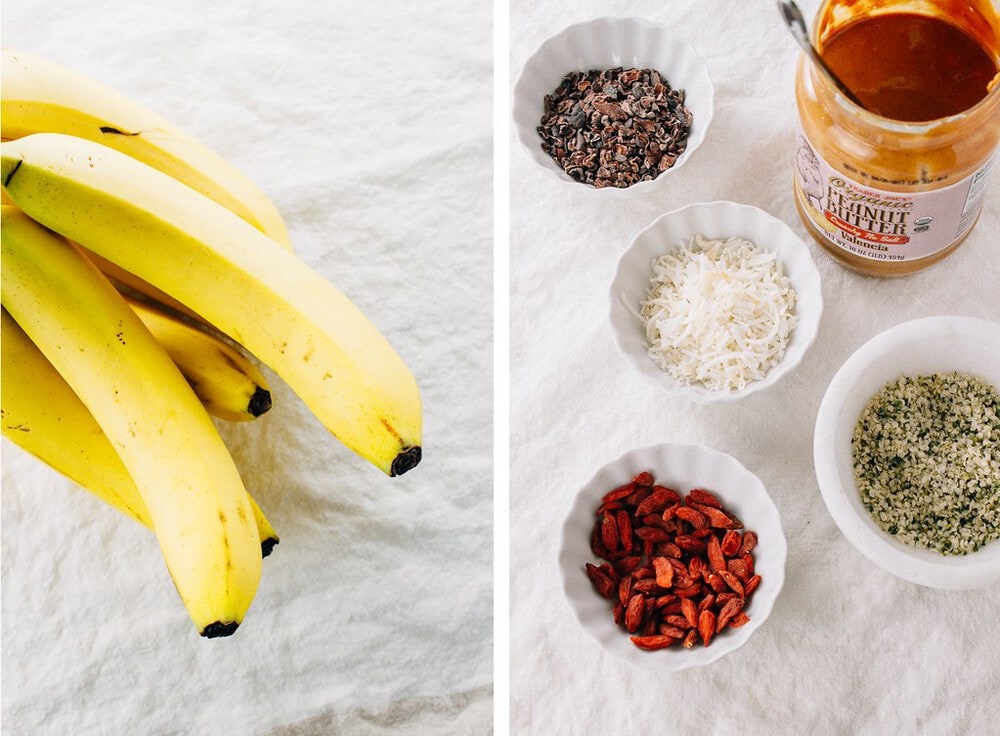 Banana Boat Ingredients
Banana
Peanut Butter
Shredded Coconut
Cacao Nibs
Hemp Hearts
Goji Berries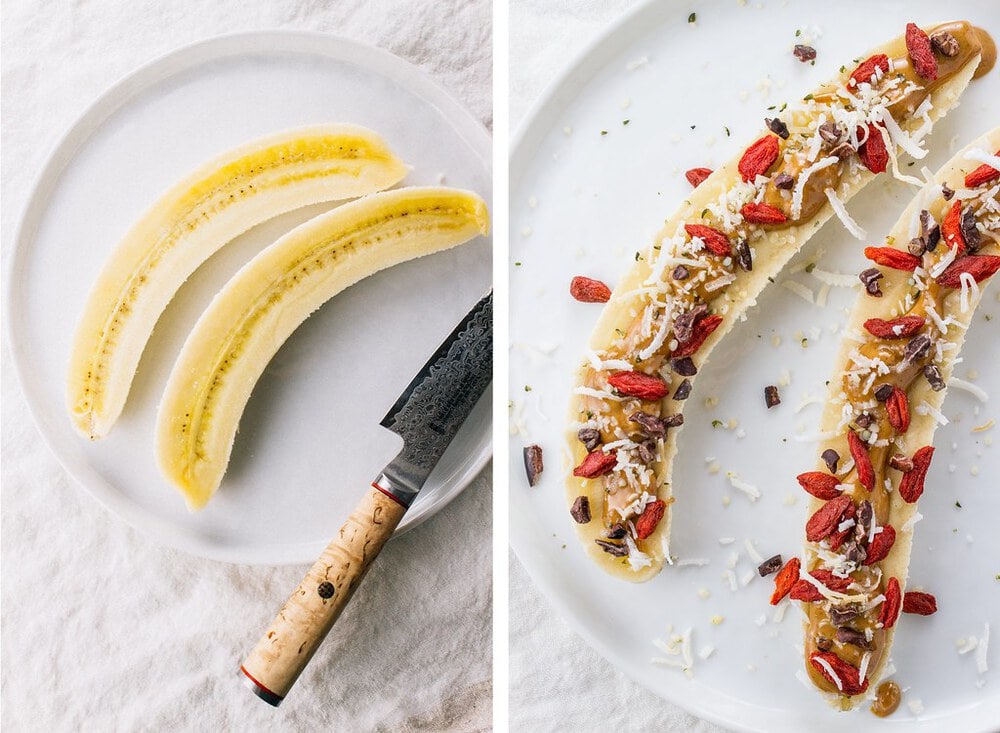 How To Make Banana Boats
First, slice bananas down the center, lengthwise, on the curve.
Layer your banana slices with some type of nut butter. I used chunky peanut butter here but you can use your favorite nut butter. This will give you a nice dose of protein. A single serving, 2 tablespoons, of nut butter has approx. 8 grams of protein. That's not too shabby!
Then add a sprinkle of colorful goji berries, shredded coconut, hemp hearts and cacao nibs.
Other optional toppings are raisins, cranberries, finely chopped nuts such as almonds, pistachios or walnuts.
A dash or light dusting of cinnamon or raw cacao powder would be great too!
Since this really isn't a recipe and more of a template, I've left the amounts called for out. I would suggest one banana per person but even that can be changed to suit your situation. Add the toppings in any amount to suit your taste. Feel free to have as many banana boats as you like but one will probably be enough. :)
It's super quick and easy and my kind of a genuinely good, healthy snack. Be wise and go eat your bananas!
More Kid Friendly Snacks
If you try this easy snack recipe, please let me know! Leave a comment and rate it below. I love to hear what you think, or any changes you make.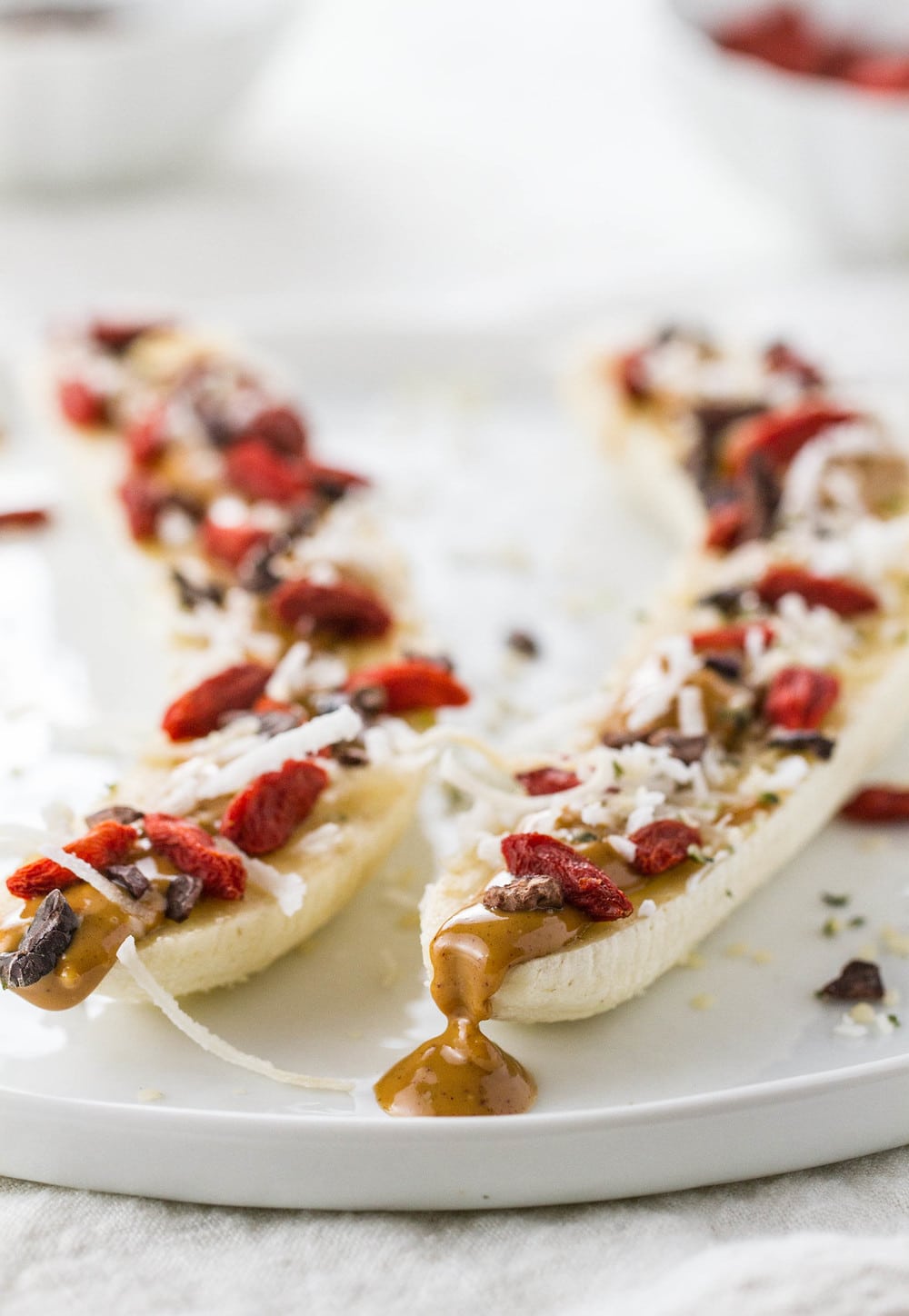 Print
QUICK & HEALTHY BANANA BOATS
A simple solution for a quick and healthy snack, or breakfast, that's both nutrient dense and well-balanced.
Prep Time:

5 minutes

Total Time:

5 minutes

Yield:

1 banana boat per person

Category:

Snack, Breakfast

Cuisine:

Vegan
Instructions
Peel and slice your banana in half lengthwise. Place banana slices cut side up and layer your bananas starting with the nut butter. Next, add the remaining ingredients in any order you like. I added them in the order in the list. Enjoy the simples!
NOTES:
Add toppings in any amount you like. This is just a guide and hopefully some good inspiration!
Some optional toppings would be raisins, cranberries, finely chopped nuts such as almonds, pistachios or walnuts. A dash or light dusting of cinnamon or raw cacao powder would also be great!